Saakashvili assigns Agriculture Minister to tackle bread price rise
By Mzia Kupunia
Friday, August 27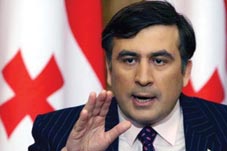 Georgian President, Mikheil Saakashvili has assigned the Agriculture Minister to work out a package of activities within a week which will "diminish the risks" of a bread price rise in Georgia. Saakashvili, accompanied by the Prime Minister, Nika Gilauri and the Agriculture Minister, Bakur Kvezereli, was visiting a supermarket in the outskirts of Tbilisi late on Wednesday. He bought a loaf of bread, Georgian sugar and oil and some cereal and later handed it to the Prime Minster, saying "a newlywed wife and a kid are waiting for you, so take these products home."
The Georgian government's "main aim" is that the rise in the price of wheat [on the world market] has a minimal affect on Georgians, especially those who are socially vulnerable, Saakashvili noted. "The increase in wheat prices is caused by the significant decrease in the harvest and the sharp increase of demand for wheat in the world market," he said. The President named the diversification of wheat import markets as one of the tools to avoid further price rises on wheat products.
"When we were dependent on just one country for our energy products, electricity prices would increase quite often, and actually we were being constantly blackmailed," he said at the supermarket in Dighomi district. "Now we appear to be in a similar situation in terms of wheat imports – we depend on one region. I would like to ask you to prepare a package of activities, enabling us to diversify the wheat suppliers, so that our consumers are maximally secure," Saakashvili noted, warning "nobody should attempt to monopolise any sphere or use any artificial levers in commercial terms." "We should try our hardest to stop the price rise," Saakashvili told the PM and the Agriculture Minister.
According to official data, Georgia consumes 800 thousand tonnes of wheat annually. 15 percent of this is produced in Georgia. 95 percent of imported wheat is from Russia; the rest comes from Kazakhstan and Ukraine. As a result of the poor wheat harvest, the Russian government announced a ban on wheat exports from the country effective August 15 until the end of this year. Soon after Moscow's statement, bread prices rose by 10 tetri in Georgia.
Speaking to
Rustavi 2
TV Company, Agriculture Minister, Bakur Kvezereli said that the ministry is already working on two projects – a short term and a long term one. The short term project focuses on activities to be carried out until the end of the year, according to Kvezereli. The long term plan will be oriented on markets diversification, the Minister said.
Georgian analysts say that diversifying the wheat import sources, as suggested by the President, could be a way to avoid further price rises and wheat shortages. Analyst in economic issues, Nodar Khaduri said, "Finding alternative markets is absolutely crucial in this situation." Speaking to
The Messenger
, the analyst said that bread prices might be maintained at the current level in the autumn; however they might rise by late winter. "Georgia has enough reserves of wheat for the autumn, however the situation might deteriorate by the end of winter, when wheat supplies are exhausted in Georgia, as well as on the world markets," Khaduri noted, adding, "So, the preparations should start right away."