Georgia negotiates with Ryanair
By Mzia Kupunia
Tuesday, August 31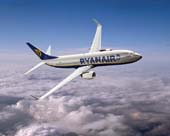 European "aviation giants" have expressed interest in the Georgian aviation market, the Georgian President, Mikheil Saakashvili said on Monday. He was speaking in Batumi, at a meeting with officials from the Georgian Ministry of Economy and Sustainable Development Tourism Department and the governors of Georgia's regions. Saakashvili said that the newly appointed Economy Minister, Vera Kobalia has started negotiations with the Irish Airline Ryanair. "This is a company which created a tourist climate in every country it entered. Ryanair does not fly to any of the former USSR states, neither to Turkey or the Near East, but now we are trying to bring it to Georgia," Saakashvili said.
Irish Airline Ryanair is well known for its low cost flights within the European Union. The company has 44 bases and low fare routes across 26 countries, connecting 157 destinations. According to the airline's website, Ryanair currently has a team of more than 8 000 people and expects to carry approximately 73.5 million passengers in the current fiscal year.
The Minister of Economy, Vera Kobalia, meanwhile warned of the preconditions that Georgia must satisfy in order for Ryanair to enter the Georgian market. "Ryanair is interested in conducting flights from Georgia to Europe, however the Irish company has certain demands before entering Georgia," Kobalia noted "First of all Georgia has to sign an agreement on Unified Air Space. Secondly the airports should also be ready for the flights. In light of this we have started active works at Kutaisi Airport and by the end of the year the construction of Mestia Airport will also be completed," the Minister stated.
The Economy Minister emphasised the need to make Georgia's aviation security rules stricter. "As for the agreement regarding Unified Air Space, we might face some problems, because Georgia might be in the black list as we have quite liberal legislation in terms of aviation security and airlines can easily get a registration," Kobalia noted. President Saakashvili also agreed with the Economy Minister, saying that a draft document on restricting aviation security rules should be filed with the Georgian Parliament.
"We undertook the general liberalisation of the economy, however technical liberalisation is completely unacceptable," Saakashvili said in Batumi "That was a big mistake made in the past years. That's why I have ordered that the necessary draft law for making aviation security in Georgia stricter is submitted to Parliament," he added. The President said there are several air companies in Georgia, which do not follow the necessary safety regulations rules. "This is an issue of unprofessionalism of the former economy ministry officials, when the aviation department was just a place for employing certain people instead of good professionals," Saakashvili said, adding that according to the information provided to him, the "problem of cadres in the department has already been solved." Despite
The Messenger
's repeated attempts, officials at Georgian United Transport Administration and the Civil Aviation Department were unavailable for comment.
Georgian Airline, Airzena - Georgian Airways said it "welcomes" the initiative of the President to restrict aviation safety rules in the country. "This is a very timely move; the problem needs to be dealt with urgently, because flights to Europe are under threat," Nino Giorgobiani, head of Georgian Airways press service told
The Messenger
"There are some air companies on the Georgian market which do not satisfy even the minimal security safety requirements," she said, adding that the problem could be solved by making the registration rules more strict. Giorgobiani noted that Georgian Airways satisfies "all internationally required safety rules."