Read TimeOuTbilisi and explore Georgian society and history, discover the beauty of the country and learn more about Georgian culture. Make Georgia an adventure with your I.
Friday, September 3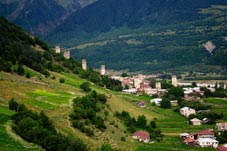 Renovations of the Svaneti History and Ethnography Museum are complete. The project, financed by the US Embassy Cultural Inheritance Fund was presented in the centre of Svaneti on August 21. The museum, equipped with a new inventory aims to protect and conserve unique items, middle ages manuscripts and icons in the Museum. It will also investigate what causes damage to the exhibits, and work on methods to preserve the heritage. Museum professionals will also study the unique items, work to protect them and prevent their decay.
Following the presentation, Ambassador of the United States in Georgia, John Bass, commented at length on the issue. He mentioned that he was really astounded by the views and nature of the Svaneti highlands. "This project is very real. The embassy receives suggestion from different organisations; then we send those suggestions to the United States, where they are carefully discussed. There are projects from different countries, not only from Georgia, of course. The fact that Georgia has received funding for this kind of project is a sign that this country has excellent culture and great potential," Bass stated.
The works were carried out within the Foundation of Cultural Heritage Protection. As part of the project the archive of the museum was also renovated and equipped with modern arrangements. In total it houses 3000 of the museum's exhibits.