Svaneti - a place for adventurers
By Mzia Kupunia
Friday, September 3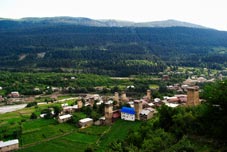 There are several myths for tourists who want to visit Svaneti, Georgia's amazing mountainous region. Firstly, when talking about this place, most people will tell you that the roads to the Svaneti town of Mestia, located 1500 meters above sea level, are so bad that "it is almost impossible to reach there alive". This is not true; marshrutkas (minibuses) have no trouble getting there. They leave from the town of Zugdidi (Samegrelo region) every two hours starting early in the morning. For Georgians a ticket costs 15 Lari, while for foreigners the fare is 30 Lari.
Of course the road from Zugdidi to Mestia is no highway, nor however is it the "deadly path" described by many people. The road goes along the Enguri River. The roaring Enguri, flowing about 100 metres beneath the road through the mountains, makes you hold your breath a couple of times. At the start of your journey you are told that the drive from Zugdidi to Mestia will take 3.5 hours, however, be prepared for a 5-hour long trip.
The first (and last) disappointment in Svaneti is Mestia. The town is the chief community of Upper Svaneti province, with a population of about 2500 people. Although surrounded by beautiful mountains, with amazing landscapes all around, the town itself is currently nothing more than a pile of half-destroyed buildings and dusty roads. Mestia is under construction – locals say that by next summer the town will be one of the most modern places in Georgia with new roads, new buildings and hotels. But for now tourists can stay in nice home-stays for 30 Lari a night with all three meals included and enjoy the hospitality of the owners.
After overcoming the shock of the temporarily ugly centre of Mestia, you notice the famous Svaneti towers – medieval forts, built mainly during the 9th - 12th centuries. Locals used the towers to hide from the enemy and to escape avalanches. "Nobody builds them nowadays, all the towers you see around are the heritage left by our ancestors," a Mestia resident said. Some of the towers serve as museums; for just 5 Lari you can see how Svanetians lived in ancient times.
Another myth about Svaneti is that the place is too dangerous for tourists. You will hear dreadful stories about kidnappings and murders committed by "Svan criminals hiding somewhere in the woods." However, stay cool – this is no longer a reality. Svaneti is as safe as any other place in Georgia. Yes, even at night and even in the most neglected and dark districts of Mestia. Svanetians are exceptionally friendly and hospitable, ready to help you at any moment. So another stereotype about Svanetians being harsh and rude is also just a myth, rather than a common truth.
Up till now Mestia is quite a boring place to stay, most of tourists head to Ushguli – the "highest village in Europe" according to some reports. Ushguli is located 2200 metres above sea level and comprises four smaller villages – Zhibiani, Chvibiani, Chazhashi and Murkmeli. The road from Mestia to Ushguli is one of the most beautiful in Georgia, with an amazing view of Mount Ushba, usually referred to as "the Matterhorn of the Caucasus." Ushguli, situated at the feet of Mount Shkhara, the highest peak in Georgia, is famous for its ancient towers, including two towers of Queen Tamar (XII century). Ushguli residents say that she used to stay in one of them during the summer and in the other in winter.
Now tourists can stay in one of several guest houses and hotels in Ushguli, with picturesque views and traditional Svanetian Kubdari, bread with meat and spices, served for dinner.