New General Director for ProCredit Bank
By Mzia Kupunia
Monday, September 6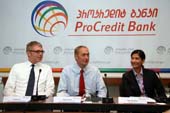 On Friday, ProCredit Bank announced changes to its management team. Maya Meredova, a director of the bank for over three years will replace Philipp Pott in the post of General Director of ProCredit Bank. According to bank officials, Meredova has been a member of the Management board of ProCredit Bank Georgia since 2007, overseeing Human Resources, Small and Medium-size Businesses and Institutional Clients, among others.
Philipp Pott who is moving to ProCredit Holding AG, Frankfurt to be the Head of Group Business Development, thanked the ProCredit Bank Georgia employees for their dedicated work, and the bank's partners for all the support they have given. "In Georgia, I have made many friends and have become attached to a country with a long history and a great future. In my new position I will remain closely involved with ProCredit Bank, Georgia and I will continue to support the institution in its future development," he said at the press conference.
Stephan Boven, Chairman of the Supervisory Board of the bank said that no major changes will follow the new appointment in ProCredit Bank. "Maya Meredova has been on the management team for over three years and knows the institution very well. She has proven herself to be a strong, very competent and highly committed manager who shares our vision of a trustworthy and responsible bank. I am absolutely convinced that under her leadership ProCredit Bank, Georgia will maintain and indeed strengthen its leading position in the Georgian banking market," he noted.
The new General Director of ProCredit Bank, Georgia said she will make every effort to guide the bank wisely in its future development and in the implementation of its expansion strategy and its mission to provide reliable, socially responsible services to the businesses and households in Georgia.