Lithuanian support for Georgia
By Mzia Kupunia
Monday, September 6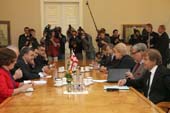 Lithuania continues to support "successful" implementation of structural political and economic reforms in Georgia, Lithuanian President Dalia Grybauskaite said at the meeting with the Georgian Prime Minister, Nika Gilauri. Gilauri paid an official visit to Lithuania on September 2-3.
"Lithuania is ready to share its euro-integration experience with your country," Grybauskaite said. "Joint projects that promote cooperation in specific economic areas would strengthen Lithuanian-Georgian relations and would also contribute to advancing European standards and regulations in Georgia," she added. The Lithuanian President stressed that despite the significant progress in carrying out fundamental reforms and moving towards market liberalisation, Georgia should make more efforts to enhance its administrative capacities.
"Only a breakthrough in this area will pave the way for a free trade agreement with the European Union," she noted, adding that Georgia and Lithuania should strengthen bilateral economic relations. "Closer cooperation between Lithuanian and the Georgian businesspeople would open up new trade and business opportunities for the business communities of the two countries," President Grybauskaite said, according to the information posted on the Lithuanian President's official website.
As part of his visit to Vilnius, the Georgian Prime Minister met his Lithuanian counterpart, Andrius Kubilius. Speaking to journalists after the meeting, Gilauri said Georgia will also get wheat from Lithuania. The Georgian PM refrained from giving any details on the issue, saying, "The details will be available in a week, when Georgian Agriculture Ministry officials visit Lithuania. The political decision has already been made."
Gilauri also touched upon the issue of Georgian-Russian relations. Speaking to the delfi.lt information portal, the Georgian PM said Moscow has not met any of the commitments set out in the Medvedev-Sarkozy ceasefire agreement. "On the contrary, Russia has deployed more troops on Georgia's occupied territories," Gilauri noted, adding that this fact "downgrades" the credibility of the Russian President.
In response to a question from a Lithuanian journalist about the possibility of a new military intervention from Russia, the PM said he does not see any possibility of a reoccurrence, replying, "The situation is very different now. In 2008 we were telling the international community that it was possible, everything was pointing to that probability. They answered that it was impossible, because that type of thing does not happen in the 21st century. However it did happen and now the international community knows Russia's real face. On the other hand, the economic situation is quite different as well and oil prices are also different. Russia's main aim was to change the regime in Georgia and to close the energy corridor. However, nothing like this happened, except that Russia managed to take control of several Georgia villages. So, now the situation is quite different, and I do not see a threat of new intervention."
After finishing his visit to Lithuania, the Georgian Prime Minister left for the Czech Republic, where, according to his press service, Gilauri will have unofficial meetings until September 7.