New Guidebook aims to make life 'Tbileasy' for newcomers to Georgian capital
By Alastair Watt
Thursday, September 16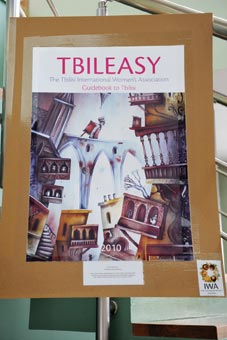 The Tbilisi International Women's Association unveiled a new English-written guidebook 'Tbileasy 2010' at a reception on Chanturia Street. The stylish pocket manual, which took a year to produce, is carefully designed to assist the large number of foreigners living in Tbilisi.
Association members Michelle Dunn and Sarah Williamson hosted the launch and expressed their excitement at the handbook they had published, "What this committee produced exceeded my wildest dreams for this book. I am so proud of Tbileasy 2010 and know it will be a valuable resource to helping newcomers to become acquainted with Tbilisi and Georgia. "stated Sarah Williamson.
The user-friendly 154-page book, aimed primarily towards the sizeable ex-patriate community, provides an expansive range of useful information about Tbilisi. Readers can find details on a vast array of facilities and interests. Its fifteen chapters cover everything from health and banking to shopping and restaurants. Street maps of the city centre and other popular districts, such as Saburtalo and Vake, should help any Tbilisi debutant to quickly find their feet in the Georgian capital.
IWA's publication also offers streetwise advise to the city's newcomers concerning the local culture, religion and language. In addition to this, the chapter on 'Cars and Driving' is an imperative read for anyone coming to the Caucasus for their first time who might not accustomed to the approach on the road. Meanwhile, families can benefit from extensive information schools and activities available to young children.
The Messenger
acknowledges and commends the collaboration and teamwork of the IWA Guidebook Committee: Sabine Boettcher, Michelle Dunn, Youngsook Han Magnum, Kate Keefe, Mieke Langenberg, Celia Liddell, Marta Ferrer Lubeck, Marika Nizharadze, Kay Pietsch, Michele Puyserver, Gamze Turhan and Elizabeth Winship.
The handbook is destined to be essential reading for Tbilisi's foreigners and anyone interested in acquiring a copy can find further information online at www.tbilisiiwa.org.