Georgian painter at Art Copenhagen
By Nata Kereselidze
Thursday, September 23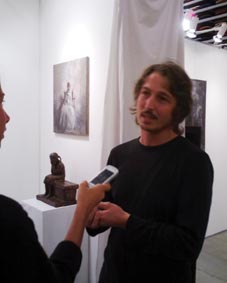 Copenhagen Forum, a setting that hosted Art Copenhagen (the largest Nordic art fair for contemporary international art), was full of observers from around Europe between 17-19 September. It represented over 500 artists this year, one of which was a Georgian painter Zura (Evgeni Tskhadaia) currently living in Copenhagen.
The 42 year old painter has been living in Denmark since 1996, however his appearance on an event like Art Copenhagen is relatively new. "The fourteen years of being away from home have of course not been easy", says Zura, "but eventually hard work pays off".
Art Copenhagen invites leading galleries to freshly expose today's works of art in the Nordic countries, and it is an honour for any artist to be involved "especially when it comes to foreign artists". Zura partly acclaims his success as luck; however, when putting his modesty aside, he states that, luck aside, there are more important things that were to be done in order for him to finally participate and present his painting stand at the Forum exhibition. The second cause of his success therefore, is largely due to good contacts, which helped him end up working at a somewhat high ranking gallery in Copenhagen. Zura's comparatively high level of popularity among other artists is apparent when seeing how well his paintings sell, and thus provoke interest. However, the high number of buyers is not what Zura determines as being successful. When measuring the level of success, a crucial point for him is to be ingrained in the world of modern art and be recognized now, as well as in the future, by people who appreciate it.
When it comes to appreciation and a critical eye, we compared the two societies: Danish and Georgian. "The masses here, compared to that in Georgia are far more willing to pay for my work", noted Zura, "since they purely rely on their personal tastes. On the other hand, Georgians are well known for having fashionable ambitions, and would only get the most talked about pieces of work". Therefore, Zura feels appreciated for his style on a whole different level, here in Scandinavia. In the near future he has been invited to display his work in two other Nordic countries: Sweden and Finland.
When talking about his sense of style and originality, Zura gives credit to the Tbilisi Academy of Arts, where he started to develop his classical style of painting, which is still clearly reflected throughout his work. "My work is built on the old school, traditional technique of painting, which I, by now, have mastered, and mix it with a special touch of me, taking it over the edge, which eventually results in originality".
The original and popular stand in Forum, by which we were standing, and by which masses of people were moving back and forth, displayed paintings of two artists: a painter (Zura) and a Sculptor (Hanne Varming – a very popular Danish artist who is also famous for "Girls in the Airport"- a sculpture in Copenhagen airport) both belonging to Gallery Varming.