ICC Georgia welcomes Tbilisi mayor
By Messenger Staff
Thursday, September 23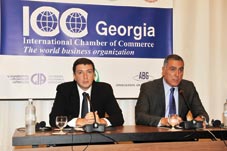 At the regular session of the ICC Georgia, the Mayor of Tbilisi Gigi Ugulava was the guest speaker. President of ICC Georgia, Fady Asly, in his introductory note, highlighted the huge progress one could see in the city of Tbilisi since Gigi Ugulava became the Mayor of Tbilisi.
Well-lit streets, secure movement in the city at any time of the day or night, clean streets and many other things had made Tbilisi more attractive for locals as well as visitors.
Mayor Ugulava informed the business community representatives about the future plans for developing Tbilisi in terms of its infrastructure, construction of new roads, organizing street traffic and other further details which are planned to be introduced in the capital in the coming years. Mayor Ugulava promised the businessmen that steps would be taken to further the integration of the business community in everyday life in order to support the development of the private sector and limiting bureaucratic activities.
Unemployment is the first problem the country faces and could be fought mostly through the activities of the business sector, Ugulava mentioned, and not by the creation of state jobs. Answering the questions, he spoke about IDPs, street vendors and other issues concerning organizing work and life in the capital.
Businessmen mentioned the supportive role the Tbilisi municipality can play to attract investors and asked the Mayor to outline the vision expressed in his speech in written form so that the businessmen could have the opportunity to show this document to the investors intending to start business in Tbilisi.