Renewable energy brings change to mountainous regions
Thursday, September 23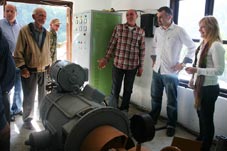 A Mini hydro power plant has opened in the village of Chiora in the Racha region. With 70 kW capacities, it will produce about 400 thousand kWh energy a year, which will provide the village residents with a year-round energy supply.
Giorgi Khachidze, Minister of Environment Protection and Natural Resources of Georgia; Inita Paulovica, Deputy Head of the United Nations Development Programme (UNDP) in Georgia; and David Gagoshidze, Governor of Racha-Lechkhumi and Kvemo Svaneti, attended the opening of the mini hydropower plant on 22th of September.
The project in Chiora has been implemented by UNDP with USD 100 thousand in funding from the Government of Norway. In addition, UNDP will help to construct another hydropower plant near Telavi and to rehabilitate the Khani-2 hydropower plant in the Baghdati district. Both hydropower plants will be handed over to the local municipalities by 2011.
UNDP has been active in promoting the use of renewable energy resources in Georgia since 2004. With funds from the German Development Bank (KfW) and the Global Environmental Facility (GEF), UNDP encourages the development and use of small hydro and geothermal resources, as well as solar and biomass energy technologies (solar thermal panels, biogas digesters and high efficiency wood stoves).
UNDP implements model projects in the mountainous regions of the country to show the benefits of these initiatives and to attract local investors.
UNDP projects are implemented in co-operation with the Ministry of Environment Protection and Natural Resources, the Ministry of Energy and the Ministry of Finance of Georgia.