De facto authorities skeptical about Saakashvili's proposal
By Mzia Kupunia
Friday, November 26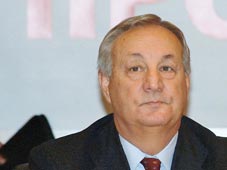 The de facto officials of Georgia's breakaway regions of Abkhazia and South Ossetia have reacted with skepticism to the statement of the Georgian President Mikheil Saakashvili on a unilateral initiative to declare that Georgia will "never use force to reverse the Russian occupation and to restore control over Georgia's occupied territories". Saakashvili voiced the initiative during his address to the European Parliament on November 23.
Following the statements of the Russian Foreign Ministry, saying that Tbilisi should sign a "legally binding document" on non-use of force, the de facto officials have declared that they "do not trust" Saakashvili's promises. De facto Abkhazian Prime Minister, Sergey Shamba suggested that if Tbilisi wants to confirm the statements made by President Saakashvili, Georgia should sign a non-use of force document at the next round of Geneva talks.
"We have heard such statements from the Georgian president before. We have heard this from the previous President of Georgia too. We have signed many agreements and documents. Such statements were made before the war in South Ossetia. So I don't trust these statements," Shamba told GHN news agency.
De facto Abkhazian leader, Sergey Baghapsh also expressed his doubts about the credibility of the Georgian President's peace pledge, saying that Abkhazia will be ready to talk with Georgia when Saakashvili is not the president any more. "However the dialogue will be conducted between two independent states. Otherwise there will be no dialogue," Baghapsh noted, adding that Georgia should sign a non-use of force document in order to prove that its peaceful intentions are "genuine."
De facto officials in Tskhinvali have also reiterated their demand on Tbilisi's signing a non-use of force document. Commenting on the statement of the Georgian President, the de facto South Ossetian Foreign Minister, Murat Jioev said it is Saakashvili's "yet another PR stunt." "His statement is only a beautiful declaration, nothing else. "If Georgia wants to regulate relations with South Ossetia through peaceful means, it should start dialogue with South Ossetia and sign a non-use of force document with Tskhinvali," information agency RES quoted Jioev as saying.
Meanwhile, authorities in Moscow have set preconditions for possible talks between Georgia and Russia, proposed by President Saakashvili on November 23. "In order to consider the possibility of resuming dialogue between Tbilisi and Moscow, Georgia should objectively recognize what happened in August 2008 and in addition, Tbilisi should not use the term 'occupied territories'," Chairman of the Committee on International Affairs at Russian Duma, Konstantin Kosachev said, adding that it is his own point of view and not that of official Moscow.
Ruling Party lawmakers in Tbilisi have downplayed the claims of the de facto authorities, saying that they are under the Kremlin's influence. "The fact that the statement Sergey Baghapsh is a repetition of the Russian Foreign Ministry's statement, indicates that the separatist leaders never express their own independent point of view," MP from the National Movement Party, Chairman of the Parliamentary committee on European Integration, Davit Darchiashvili said "Saakashvili was quite clear about his initiative, which was absolutely adequately perceived by the international community," he said adding that now it is Russia's turn. "If the Russian side will not become responsive and refuses to start negotiations, it will have more problems with the international community, than it already has," Darchiashvili noted.
Russia is not interested in starting negotiations with Georgia, some analysts in Tbilisi suggest. "Moscow is citing a negative attitude towards Saakashvili's persona as one of the reasons for not talking with Tbilisi and at the same time it is deadlocking the situation by demanding that Tbilisi signs a non-use of force document with de facto Abkhazia and South Ossetia. And officials in the Kremlin are aware that Tbilisi will not negotiate with Tskhinvali and Sukhumi as independent entities," analyst Malkhaz Chemia told The Messenger, adding that the issue of Georgia is not on the top of the agenda of the Western states "as portrayed by Georgian TV channels and officials". The analyst said de occupation of Georgian territories is inevitable, however Chemia suggested that it will not happen "right away." "It will be a gradual process. The issue of de occupation of Abkhazia and South Ossetia will be the subject of speculations between the West and Russia and nobody - either Saakashvili or even King Davit Aghmashenebeli would be able to make the process faster," he noted.