Movement for a Fair Georgia members against Noghaideli
By Mzia Kupunia
Wednesday, December 1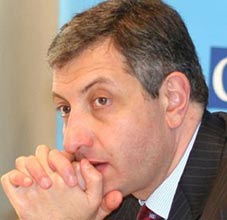 The heads of seven regional offices of the Movement for a Fair Georgia Party, led by former Prime Minister Zurab Noghaideli, declared their distrust in the Party leader on Tuesday, claiming that he failed to meet the promises he made to the party members. Representatives of Kaspi, Chiatura, Gurjaani, Sachkhere, Terjola, Gori and Tbilisi branches of Movement for a Fair Georgia held a special press conference in Prime Time Press Club yesterday.
The heads of the regional branches of the opposition party claimed that Noghaideli did not pay salaries to the people involved in the "door-to-door" campaign last spring. "The situation has been tense since last spring. The door-to-door campaign was a good idea, however the decisions were being made by non professionals and this caused the failure of the programme," head of the Saburtalo branch of the Party, Nato Khohiashvili claimed, adding that several weeks before the elections, Noghaideli refused to finance door-to-door campaign.
According to the head of Chiatura regional branch of the Movement for a Fair Georgia, Rostom Tsartsidze, the majority of the Party members are in favour of holding a special congress and dismissing Noghaideli from the post of the Party Chairman. "I call on all parties and people to no longer trust Noghaideli," he said.
Movement for a Fair Georgia released a special statement in response to the claims of the regional branches' heads on Tuesday, saying that "the people who are blaming Noghaideli have been sent in by the government." According to Party officials, the claims of the regional organisations' heads did not come as a surprise for them, as due to a reorganisation in the movement, the authority of all regional branches has been terminated.
"We have been expecting such actions from these people, who lost their posts due to the changes in the movement and thus they were not able to complete the tasks given by the government," the statement reads. "We are sure that these people will try to join other opposition parties and carry out those tasks there. Our Party will not give in to the blackmailing of the government and its allies and will carry on going towards its aims," it continues.
Zurab Noghaideli is currently on a visit to Moscow. According to his press service, the leader of the Movement For a Fair Georgia will meet the representatives of the Abkhazian and the South Ossetian Diaspora in Moscow and hold talks with the leaders of ruling Edinaya Rossiya Party.