Anger over deployment of Smerch in Tskhinvali
By Mzia Kupunia
Wednesday, December 8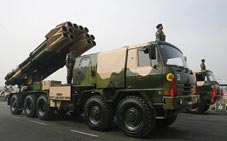 The Georgian Foreign Ministry has condemned Russia's deployment of the multiple rocket launcher artillery system Smerch in Georgia's breakaway region of South Ossetia. In a statement released on November 7, the Georgian Ministry said "The deployment of Smerch systems on the occupied territory of Georgia provides further proof that Russia, by unlawfully declaring suspension of its participation in the CFE Treaty, has created a prerequisite for the enhancement of its military presence in the area to which the Treaty applies."
The Georgian Foreign Ministry said that the deployment of Smerch rocket systems in the vicinity of Tskhinvali is "a continuation of Russia's aggressive policy" towards Georgia directed "against Georgian statehood". According to Tbilisi, it endangers peace and stability not only in the Caucasus, but in the whole Black Sea coast region.
"The increasing military build-up in Abkhazia and Tskhinvali region indicates that the aim of the expulsion of OSCE and UN observation missions from Georgia's occupied territories was to avoid control and monitoring by the international community in these regions," the statement of the Foreign Ministry reads.
In the statement the Georgian side downplayed claims of the Russian authorities about a "possible terrorism threat" from the Georgian territory, calling the statements "groundless and slanderous". "Against the background of such allegations and the speedy militarization of Georgia's occupied territories, the likelihood of military threat from Russia in fact increases," Georgian Foreign Ministry has stated, adding that "the Russian side is responding to the Georgian President's peace initiative with such asymmetric actions."
Tbilisi has called on the international community to give a "relevant assessment to Russia's aggressive policy and provocative actions", to activate efforts in order to force Russia to comply with the commitments envisaged by August 12, 2008 agreement and urgently and fully de-occupy Georgia's territories.
Later on Tuesday the Georgian Foreign Minister, Grigol Vashadze informed the Ambassadors of the US, France, Germany and the UK about the deployment of a multiple rocket launcher artillery system Smerch close to Tskhinvali. Vashadze reiterated Tbilisi's concern over Moscow's "rude violation" of the August 12, 2008 agreement.
The Russian Defence Ministry reported on deploying additional military equipment and armaments in 4th military base in Tskhinvali on December 3. Later on December 6, news agency
Interfax
reported about a deployment of a division of reactive artillery equipped with a multiple rocket launcher artillery system Smerch close to the town of Tskhinvali in Georgia's breakaway region of South Ossetia. According to an anonymous source from Russian law enforcement structures, Interfax reported that the division was deployed in order to "prevent possible aggression from the Georgian side."
According to www.defencejournal.com, the Smerch multiple rocket launcher is designed to defeat soft and hard skin targets, artillery and missile systems. It fires from a 300 mm 9M55K rocket. Firing range is 20 km to 70 km, according to the website.