Agriculture Fair in the UN House
Monday, December 20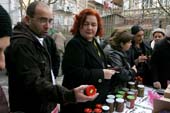 On December 17 The UN House in Tbilisi hosted a traditional fair of agriculture products today. Wide variety of processed fruit and vegetables, and high quality dairy products were supplied by the food processing plants in Kachreti and Gori.
The plants were set up by the United Nations Development Programme (UNDP) to stimulate local production, assist farmers to process and sell their product, and to provide practical training to the vocational education students.
"The establishment of mini plants at the professional colleges is a successful model as it creates more opportunities for local farmers and for students," said Sophie Kemkhadze, Assistant Resident Representative of UNDP Georgia.
"This is the second agriculture fair we are hosting in the UN House. We can clearly see that small agriculture production has very good prospects in Georgia. Tasty and quality product is always good news, especially on New Year," she said.
The processing mini-plant in Kachreti was set up in 2009 at the Kachreti professional college with funds from the government of Romania and UNDP. The mini-plant provides small farmers with up-to-date technology for washing fruit and vegetable, cleaning jars, cooking, sterilizing, packing and vacuum sealing. Eighty local farmers use this facility for processing their orchard crops and selling jam, comfitures, marinades, sealed vegetables, sauces and juice at the local market under the brand "Kachreti Gardens."
The milk-processing mini plant in Gori was established with funds from the European Union as part of the post-war recovery programme. Safe working environment and food safety standards provide excellent training opportunities to the professional courses students of the Gori University. The plant works with the local farmers to produce cheese, pasteurised milk, matsoni and sour cream. High quality dairy products sell under the brand "Nebiera" at the local market and in the largest supermarkets in Tbilisi.