Accusatory article informant named as Badri Bitsadze
By Gvantsa Gabekhadze
Tuesday, December 21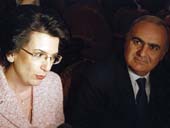 Georgian newspaper
Asaval-Dasavali
has promulgated the informant of last week's scandalous allegations. The article titled "Asaval-Dasavali Informer comes out from behind the curtain" reveals that the information source was Badri Bitsadze, Nino Burjanadze's spouse and ex-Head of Georgia's Border Defence Department.
The first article on President Mikheil Saakashvili's and Levan Gachechiladze's (one of the leaders of the Georgian Party) agreement was published in the newspaper on 13 December. The author of the article said he had a document according to which Levan Gachechiladze had made a list of requests at a meeting with Mikheil Saakashvili after the 2008 presidential elections. The requests were the following: "appoint me as prime minister for 6 months, I want 5 million, I need 10-12 million for founding the Illia Chavchavadze estate bank". In addition, Gachechiladze requested to appoint Tina Khidasheli (one of the leaders of Republican Party) as prosecutor general. The author of the letter said Saakashvili transferred 2 million on account to Gachechiladze and refused to give more. Thus, Saakashvili cheated Gachechiladze, which became a motive for continuing the fight by the latter. After publishing the article, one of the main questions was who might be the informer and where had he or she obtained this information. As it became known on December 20, the informer was Badri Bitsadze, husband of Nino Burjanadze (leader of Democratic Movement-United Georgia and the former Parliament speaker).
"Saakashvili told me that Levan Gachechiladze was going to visit him and I had to enter the room and listen to Saakashvili-Gachchiladze dialogue. It happened on Shavnabada after the Presidential elections", Bitsadze says in the interview.
Bitsadze quote: "Gachechiladze assures Saakashvili that he can turn him over. Saakashvili asks him what he wants him to do. Gachechiladze didn't say anything and I saw him writing his preconditions on the sheet of paper. When the guest left, Saakashvili handed the paper to me and said see what he had written to him", Bitsadze said.
Bitsadze also recalled the President's Inauguration Day: "During the inauguration process, Gachechiladze was at the hippodrome. The latter called Saakashvili and asked him to hurry and finish the Inauguration, otherwise he won't be able to restrain the protesters. Finally, he phones Burjanadze asking why the process was taking so long. I'll keep my promise but if the people start marching to the Parliament I won't be able to do anything. Nino told him that he had made no promise to her and advised him to clarify everything with Saakashvili". Bitsadze said that Gachechiladze kept his promise. However, Saakashvili fooled him and gave only part of promised sum, meaning 2 millions.
According to Bitsadze, Gachechiladze was also requesting 2 mln from Burjanadze for participating in the Representative Public Assembly, 300 000 out of which was to be handed over to Mamuka Ghlonti to purchase 49% of Maestro TV's shares. Bitsadze says Gachechiladze requested 2 mln from Zurab Noghaideli (leader of Movement for Fair Georgia) too. Noghaideli was ready to pay the money in order to become an opposition leader.
According to Bitsadze, Gachechiladze was also talking about taking a break for a month. "He said he wanted to move aside for a month because he had to get money. If the opposition was giving him money why did he need to move aside? It turns out that the government was to give him money".
Gachechiladze immediately responded to the interview and blamed Burjanadze and her family for a dirty and sick campaign towards him and his party, "I have never said anything negative towards the oppositional factions, however everyone can see how dirty campaign is ongoing without any proof against me and my party. Despite attempts to set Burjanadze and his family in oppositional rows, unfortunately they are acting the same as they were while in the authorities. I appeal to the society to call everything by its name; otherwise achieving success will be very difficult."
One of the shareholders of
Maestro TV
, Makuka Ghlonti has stated, there was nothing new in Bitsadze's statements concerning the TV, "Gia Gacheliladze( brother of Levan Gachechiladze) and I wanted to create a holding where the TV,
Radio Utsnobi
and a newspaper would be united, we are still thinking on the issue and Bitsadze did not say anything new. Herewith, 49% of the TV shares cost more than 300 000 and if my friend Gia Gachechiladze asks for me the share I gave him it as a present."
Oppositional Republicans have their explanation as to why Bitsadze gave such information, "Representative Public Assembly, which is associated with Burjanadze, practically failed and its supporters are connecting with the Georgian Party, which would be the reason why Bitsadze delivered such an interview. Herewith, his statements would not reflect the common oppositional spectrum, "One of the leaders of the party, Davit Zurabishvili, stated.
If the information is right, the incident should be condemned, Our Georgia-Free Democrats stated, "Dirty politics should end in the country. If that information is right, this is unacceptable for us, "Tea Tsulukiani, from the party, said.
Based on analyst Soso Tsiskarishvili, "It is difficult to affirm something strongly; it is also difficult to state how correct the information was, given to Bitsadze by Saakashvili. There are many things which should be defined. However I do not think that the dissolution of 300 000 could be down to one man."
The author of the article, Jaba Khubua said that documental proof could not be published this week, as the informers would make them public of their own accord in the near future.