American Jazz Trio dazzles Tbilisi audience
Tuesday, December 21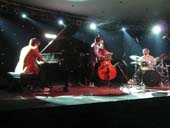 The US Embassy in Georgia invited the admirers of jazz to an incredible evening with the Dan Tepfer Trio at Tbilisi Event Hall on December 16. The 28-year-old New York-based pianist and composer, one of the most formidable jazz musicians on the international stage performed the compositions from his old and new albums with bassist Thomas Morgan and drummer Ted Poor. "A new knight of the keys gifted with a heightened sense for form and an extraordinary confidence in his angles of attack" Dan Tepfer shared the most harmonic jazz rhythms with his loving Georgian audience.
Cynthia Whittlesey, Chief of Education, Culture and Media Affairs of the US Embassy spoke of success of the previous concerts held in Kutaisi and Telavi on December 13-14 to The Messenger. "People are so hungry for cultural and, in particular, American cultural events that it is always so exciting for us to offer concerts. We had two great concerts in the regions and tonight it was phenomenal, just an unbelievable performance. The trio has so many friends here in Georgia that you could see the happy audience enjoying this event," Cynthia Whittlesey told us.
Dan Tepfer's Georgian story started a couple of years ago when he came to Tbilisi for the first time and gave concerts with the BBC big band. But it was just a few months ago when he wished to come back. With the great support of the US Embassy in Georgia and successful negotiations with Eastern Promotion the three amazing concerts with master classes had been arranged for the US Trio. "It's really pleasure to be back to Georgia; I really like this country with its amazing architecture, great wine, incredible nature and wonderful people. Jazz seems to be very much part of the culture here. The Georgian audience is really enthusiastic and fully expresses their emotions at concerts. We had the pleasure of listening to young talented Georgian musicians when I gave master classes at the Georgian Conservatoire and everyone in the trio were really impressed," Dan told us, stressing this was the last concert of a very long tour started at November 8. After going home to New York he will put on concerts in his hometown in January-February before starting a new tour in March.
Kakha Kandelaki, Marketing Director of Eastern Promotion the organizer of the event spoke of the successful cooperation with the US Embassy and Dan Tepfer Trio and advised the admirers of tasteful music to attend the best-organized non-stop jazz events already planned by Eastern Promotion for the whole upcoming year.