Ilia the Second Conducts Christmas Liturgy
By Salome Modebadze
Monday, January 10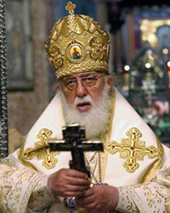 Catholicos Patriarch of All Georgia Ilia the Second conducted the Christmas liturgy at the Holy Trinity Cathedral on January 6th. Talking about social problems like mass unemployment, a high level of emigration, an increasing number of prisoners, and the low level of education, His Holiness highlighted territorial integrity as the main problem for our country in his traditional Christmas Epistle. Worrying that the policy of "divide and rule", started by the Russian Empire in the 19th century is still in place, His Holiness encouraged Georgians to protect their unity through literal ways. "Creation of NGOs and web-pages in different languages promoting Georgian territorial integrity in Georgia and outside the country would seriously protect the interests of the country."
Talking about the importance of Georgia's bordering mountains, Catholicos-Patriarch stressed the strategic importance of these regions for the country in his epistle. Churches and monasteries have been built in mountains for the revival of such regions while the government has to do even more for supporting these territories. "We advised the Georgian Government to create special protective zones for the prisoners with light crimes in mountains with the agricultural services. This would be a solution to the unemployment and the promotion of agricultural services as well," His Holiness said, hoping that the infrastructural improvements of Svaneti would become the basis for the development of Racha and Pshav-Khevsureti.
Encouraging Georgians to take responsibility for their country, His Holiness wished that the state law would ensure the national values in a tiny country like Georgia. "Those who want to be called "the sons of God" should first of all try to sow mercy. I'm optimistic for the future because the country has been standing on the difficult way of spiritual recovery," His Holiness said in the epistle emphasizing the importance of announcing him as the Archbishop of Mtskheta-Tbilisi, Metropolitan of Bichvinta and Tskhum-Abkhazia by the Holy Synod.
Explaining the historical unity of Abkhazia and Tskhinvali region with the rest of Georgia Catholicos-Patriarch welcomed the fact that the regions had remained under the Georgian church jurisdiction despite the military confrontations and couldn't have been destroyed by "political intrigues". "Sharing the same blood, historical unity and friendship gives us a hope that one day the old relations will be revived with Abkhazians and Ossetians," His Holiness stated.
But in the Christmas congratulation letter sent to Ilia the Second Russian Patriarch Kirill skipped "Metropolitan of Bichvinta and Tskhum-Abkhazia". It was the same on December 25th, when the Russian Patriarch congratulated the head of the Georgian Orthodox Church on the 33-year anniversary of his enthronement. The Press Service of the Georgian Orthodox Church then tried to downplay the omission of "Abkhazia" in the title as "a technical mistake." Formally, the Russian Orthodox Church recognizes the canonical borders of the Georgian Orthodox Church, which also includes Abkhazia and South Ossetia but doesn't try to improve the "technical mistakes."
Asking Georgians to be modest and overcome their pride - the basis of all other sins Ilia the Second encouraged them to trust in God especially in the epoch of "technical development" when people love themselves more than others and think they are mightier than God. "While Jesus Christ born in Bethlehem reminds the world that the way of deliverance starts from modesty," His Holiness said condemning "voluptuousness and cruelty" propaganda often spread through modern media. "Georgia is under the Virgin Mary's special protection along with the world troupe of Orthodox saints, so let's ask God with our clear hearts to synergize human and spiritual powers," His Holiness blessed the Orthodox parish.