US echoes Georgian claims of Russian occupation
By Gvantsa Gabekhadze
Monday, March 7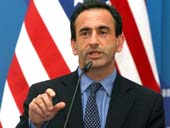 Russia is occupying Georgia and the United States cannot see any other way of describing the situation, thus, the term occupation cannot be regarded as a provocation, as it reflects the reality - Philip Gordon, Assistant Secretary of State for European and Eurasian Affairs, stated on March 4.
"We respect Georgia's sovereignty and territorial integrity. We believe that Russia used disproportionate force and remains present in what we consider to be sovereign Georgia. So it's (use of term -occupied) not meant to be a particular provocation, it's just a description of what we think the situation is," he said and added that the U.S. had been "very active in the Geneva talks and bilaterally with Russia to try to bring about an end to what we consider to be a military occupation."
He made the remarks while responding to a question about Georgia. Responding to the same question, Gordon said that there was no basis for Georgians to think that Washington abandoned its support to Georgia at the expense of its reset policy with Moscow.
"We have some differences with Russia. We're not shy about expressing them. And one of them is Georgia, and I think we've managed to have a better relationship with Russia in lots of important ways but without, as I said here, sacrificing our principles or our friends. Georgia is one of our friends and there are some important principles involved in that relationship," Gordon said.
"We have an intensive and active bilateral relationship. We raise Georgia's sovereignty and territorial integrity directly with the Russians pretty much every time we see them. We don't hesitate to do that. We're clear that we view it as an occupation," he said.
Despite such statements from the United States, Russia does not even consider itself as a part of any conflict, "Russia is not going to give Georgia a guarantee of non use of force, the reason for this is that we are not threatening Georgia. Russia has not been and is not a conflict side, "Deputy Foreign Minister of Russia, Grigory Karasin , said. As he has mentioned, Russia has already given full information on Russian military forces in South Ossetia and the federation would deliver the detailed information to OSCE in the beginning of May, "South Ossetians are frightened by the increasing military rhetoric from Georgian side , thus , our presence there is the most significant guarantee of their safety."
Meanwhile, the Georgian side is talking of the necessity of the restoration of observing missions to the occupied regions of Georgia, "If there is some control from international organizations on the occupied regions, Georgia will have reliable and exact information on what is going on there. Russians do not let the observing missions there as they want to hide the current reality, " Shota Malashkhia, head of the Temporary Commission on Territorial Integrity issues of the Parliament, stated on March 6.
The majority of Georgian analysts consider that recognition of those Georgian regions as occupied territories is important for Georgia, as it will stop the process of recognition of Abkhazia and so called South Ossetia, as independent republics, however they are less optimistic that the word occupation will change the current reality of Georgia. They are also not optimistic on foreign observing missions being allowed access to the occupied regions, as this is not in Russian interests and Russia will do its best not to allow them there.