Tbilisi reacts on State Department's INCSR report
By Mzia Kupunia
Monday, March 7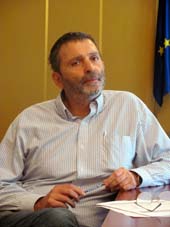 Georgian officials have responded to the US Department of State's 2011 International Narcotics Control Strategy Report (INCSR), which says that "Georgia is becoming a major transit corridor for drugs of abuse produced elsewhere." Ruling party MPs have suggested that in order to eliminate drugs transit, it is necessary to deploy international monitors on Georgia's breakaway regions of Abkhazia and South Ossetia. "Everyone knows that these regions are not controlled by the Georgian government. So deploying international monitors is the only way out of the situation," Davit Darchiashvili of the National Movement Party said.
US Department of State's Bureau of International Narcotics and Law Enforcement Affairs report reads that "the separatist territories of South Ossetia and Abkhazia are beyond the control of Georgian law enforcement, and there is speculation that drugs flow through these areas. This information cannot be verified as there is little or no exchange of information on drug trafficking between the Russian occupying forces or the de facto governments of these territories and the Government of Georgia."
Lasha Todria, Chairman of the Human Rights Committee at the Georgian Parliament even warned about the possibility of illegal arms trade on Georgia's breakaway regions. He noted that the Georgian authorities have repeatedly informed the international community about drugs trafficking from Georgia's occupied territories. "When there are such buffer zones, assisted by the Russian Federation, there is always a threat not only for Georgia but for the whole world," he said. Meanwhile the de facto South Ossetian officials have accused the Georgian side, saying that drugs used to flow into Tskhinvali region from the territories controlled by Tbilisi. The so called Foreign Minister of South Ossetia, Alan Pliev noted that drug transit was a "huge problem" until 2008. "This threat remained until the Russian and the South Ossetian law enforcers established control over the whole borderline," he said.
Officials in Tbilisi downplayed the suggestion of the authors of INCSR report about possible consequences of a visa free travel agreement between Georgia and Iran, signed in 2010. "If appropriate inspections and checks are not instituted and enforced, this agreement could lead to still more drugs entering Georgia. This seems likely as up to 40 percent of Afghan opiates pass through Iran. Smuggling of these opiates is a problem now along all of Iran's borders to the South, West and North, so there is good reason to fear that easier passage between Iran and Georgia could invite traffickers to try the "new" route. In addition, recently, Azerbaijan and Turkey have noted methamphetamine drugs coming from Iran.
Any kind of transparency and openness in terms of visa procedures usually causes certain threats, Minister for European and Euro Atlantic Integration, Giorgi Baramidze said. "However at the same time we activate cooperation with our partners and strengthen our law enforcement structures," he told journalists, when commenting on State Department's worries over Iran-Georgia visa free travel agreement. Parliamentary opposition representatives have also downplayed the alleged threat of drugs smuggling increase due to the visa free regime. "In terms of Iran, visa-free travel regime is not a decisive factor, because these people receive visas at the destination place and by eliminating visa regime only a 15-minute procedure was annulled. As for the control, it should have been carried out before, as well as now. So it is not correct to link the visa free regime and drugs transit with each other," MP Levan Vepkhvadze of the Christian-Democratic Movement noted.
The authors of the report suggest that Georgia's system of drug control is in need of reform. "The first and the most pressing gap is the absence of a detailed specific Anti-Drug National Action Plan...Coordination among institutions involved in drug related issues is also a problem. There is a lack of systemic drug preventive measures. Treatment methods are developed with little or no attention given to social rehabilitation following detoxification," the report reads "Information about dangerous drugs is inadequate, statistics about drug use are limited and unreliable. Current national legislation does not conform to UN drug conventions' requirements," it continues.