Education concerns raised by Christian Democrats
By Salome Modebadze
Friday, March 18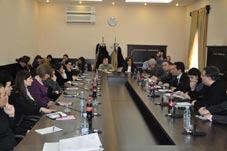 Certification of teachers, their professional promotion and development of science were the main topics of the parliamentary discussions between the Christian-Democratic faction and the teachers on March 17. Worrying that the reform within the educational system has a lot of drawbacks, the sides emphasized the necessity for solving the teachers' problems as soon as possible.
Stressing the necessity for providing more financial support to the educational system, Chairman of CDM faction Giorgi Targamadze worried about the level of state education in Georgia compared to that of private education institutions in our country. Inadequate state policy towards education and science and social policy were considered as the main problems in the issue. Viktoria Balavadze Coordinator of the Teachers' and Science Professional Union stressed the organization had been doing everything to highlight their needs for professional growth and improved results at the exams.
NGOs attending the meeting were concerned at the "absurd" results of school re-branding, releasing the 12th graders from school leaving examinations. It means that schools receiving the best marks for their academic and technical conditions would have particular privileges. This would encourage parents to take their children to such schools, preventing their children from sitting additional exams. The analysts doubted that this trend would end in the abolishment of other schools with lower rates.
NGOs also disapproved the existence of 12th grade at Georgian schools. Talking of the nonexistence of a relevant standard and syllabus, analysts doubted the real purpose of the additional course. School re-branding is also connected with certified teachers. As a matter of fact only about 12 000 teachers can pass certification exams each year but this process is not yet defined. Wondering how Georgian teachers will be given preferences, analysts worried that the Government had been putting the teachers in unfair conditions.
Denis Davitashvili Chairman of Union of Professional Education encouraged the CDM faction to raise the question of the withdrawal of Minister of Education and Science Dimitri Shashkin at the ministerial debates. "It's high time for the Minister to end with the "revolutionary experiments" and resign," he stated. Giorgi Machabeli Chairman of Educational Policy, Planning and Managing International Institute worried that the schools are being treated like prisons "as the Minister has been carrying out the reforms as he used to do in the penitential system."