New music hall opened by famous Opera star
By Salome Modebadze
Friday, March 18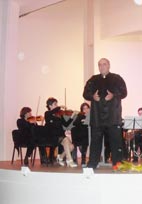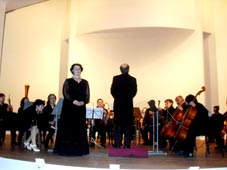 An international art fund named after the famous Georgian opera singer Davit Gamrekeli in cooperation with Georgian Technical University (GTU) ceremonially opened a new musical hall of the university on March 14. Talented graduates of the State Conservatoire, encouraged by experienced soloists of the Opera and Ballet Theatre, performed arias from the world famous composers Giuseppe Verdi and Giacomo Puccini.
Irakli Kahidze and Elene Janjalia, soloists of Opera, expressed their gratitude towards the organizers and stressed that they would always participate in the activities carried out by Gamrekeli Fund. "The concert at the renewed GTU hall was really amazing thanks to the great devotion of the organizers," Tea Shatberashvili, soloist of the "Theatre of the Future" established by Gamrekeli Fund told
The Messenger
.
The joint concert by Gamrekeli Fund and the GTU theatre "Modi Nakhe" was an expression of solidarity towards the people of Japan affected by the terrible earthquake. "Soon we will celebrate the 100th anniversary of Davit Gamrekeli and if the Georgian Government will support this project we will offer an unforgettable evening in honor of this great musician," Founder of the fund, Georgian baritone Zurab Bukhradze told us.
Conductor Baadur Samadashvili told us that the new studio would better encourage young professionals and give them an opportunity to perfect their skills. The Fund will stage
Rigoletto
and
Don Juan
this year with the support of their friends cooperating and acting at various foreign Operas dedicated to the jubilee of Davit Gamrekeli in near future.