Intriguing approach to war in The Stoned Moon
By Salome Modebadze
Friday, March 18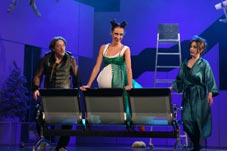 Last Friday I had a wonderful opportunity to see a post-modernist play at Rustaveli National Theatre.
The Stoned Moon
by Irakli Samsonadze and Goga Tavadze is a light comedy based on the Georgian-Russian war in August 2008. The 115 minute performance offers the audience an amazing show full of surprises. "This story has been created in cooperation with my friend Goga Tavadze (Director of the play). We had all been depressed by the August events in 2008 and wanted to encourage our people by retelling this story in a different context," Irakli Samsonadze co-author of scenario told
The Messenger
. "The play is funny and sad at the same time… It is a modern eclectic fairy-tale. Every fairy-tale has a happy ending. Although life usually differs from tales but the whole of mankind has been surviving with the hope of a better future," Samsonadze told us. The scene performed in the play describes the situation in today's Georgia. The character of actor Bacho Chachibaia is the result of an experiment. He is half man and half turkey who took responsibility of saving the family oppressed by the sudden guests. His character does everything to defeat the sudden aggression but even he can't answer the main question: "can anyone help us?" "My character is first of all Georgia for me. I like the scene where I am being cut in half but continue surviving," Chachibaia told us. Young actress Ruska Makashvili plays a pregnant woman which can't deliver a baby in the existing terror. But the most interesting thing is that her baby refuses to be born in chaotic Georgia because it needs a peaceful country without the occupants. Rustaveli National Theatre was overcrowded on March 11. School children, students and adults all enjoy
The Stoned Moon
in different ways. But those who don't yet know how the moon managed to become stoned will have a wonderful opportunity to see the play on April 16.