Saakashvili open to dialogue as election reform drags on
By Gvantsa Gabekhadze
Wednesday, March 30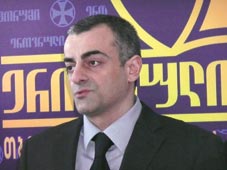 The President welcomes any dialogue, especially if all interested parties participate in the dialogue- President's spokesperson; Manana Manjgaladze voiced the President's attitude concerning "ongoing" negotiations with the Government and oppositional representatives on improvement of election environment in the country, on March 29.
"Based on the OSCE document, the 2010 local elections were the most democratic and free ever conducted in Georgia and they were held according to the Election Code, the main articles of which were adopted through a consensus between the different political parties, The President welcomes any dialogue, especially if all interested parties participate in the dialogue. I want to explain that compromise is the only way for conducting a dialogue. All political parties should be aware of it, "Manjgaladze, said.
Based on the current situation it is difficult to say which side is ready to concede. What can be said is that the process is in a blind alley. Those suggestions which have been raised from the opposition, especially those related to the usage of bio metric data of the voters and majoritarian MPs turned unacceptable for the authorities and they blamed the opposition of blackmail, while the opposition refuse to continue the process unless the authorities agree to their suggestions.
Different political forces have their own take on the situation and the stalled negotiations. As the oppositional National Forum stated on March 29, the authorities are afraid of composing election lists with bio metric data in all of Georgia, as it will reveal a lot of shortcomings in the present election lists and would put the legitimacy of the current authorities under question. According to the leader of National Forum, Kakha Shartava, there is one outcome from the situation, "forming a serious political group, which will head the society, as currently there is no political subject in the country, which would lead the process." On response with National Forum's statement member of Parliamentary Minority, Christian-Democrats, Levan Vepkhvadze, said, "If the Government think that using bio metric data will put its legitimacy under a question mark, it will not concede anything, thus we should not go backwards, and we should be oriented completely on a better future."
The Georgian printed media, which report on the issue actively, mention that, "based on our sources, the authorities have some materials they can use against so called radical opposition, thus they are not afraid of straining the situation in the country. They are sure that due to those materials they can control the situation. As for the parliamentary opposition, the authorities can't see them as a serious opponent at all,
Rezonansi
reports.
According to analyst, Ramaz Sakvarelidze, "if there is such mobilization of foreign forces to make the authorities concede in this field, they might concede something, however that "something" would not be an obstacle preventing the authorities from getting votes. On the one hand, I do not think that, currently, international organizations are interested in Georgian issues. On the other hand, if they had to choose between the international community or keeping the power, the authorities will try to keep its power. "