NATO Foreign Ministers hail Georgia's defense reforms
By Mzia Kupunia
Monday, April 18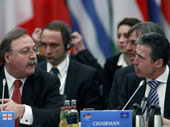 NATO officials gathered in Berlin at the Alliance's Ministerial meeting thanked Georgia for "substantial" contribution to ISAF program and welcomed the country's strong performance in defense reform.
The Ministerial meeting was attended by the Georgian Foreign Minister Grigol Vashadze. "The year 2011 will be key for putting forward more democratic reforms in Georgia and welcomed the NGC as a platform for dialogue on security issues and in particular on the efforts undertaken by Georgia towards enhancing security in the South Caucasus," a statement posted on NATO official website reads.
NATO Secretary General Anders Fogh Rasmussen said in his opening remarks at the Georgia-NATO Commission meeting that the relationship between the Alliance and Georgia has "deepened significantly" in recent years. "This has been to the benefit of NATO, of Georgia, and to the Euro-Atlantic area as a whole. And it has helped Georgia to play an increasingly important role as a security contributor," Rasmussen stated "Through the NATO-Georgia Commission, we have pursued a substantive and meaningful political dialogue. Through the Annual National Program, specific and very effective programs are now in place to support Georgia's defense and security sector reforms and put them in the context of wider democratic reforms," he added.
Meanwhile the US Secretary of State, Hilary Clinton expressedWashington's solidarity with Georgia in relation with "Russia's recent activities." Speaking at the meeting with the alliance authorities and the Georgian officials in the German capital, Clinton said "US support for Georgia's sovereignty and territorial integrity remains steadfast." "We share Georgian concerns regarding recent Russian activities that can negatively affect regional stability," information agency AFP quoted her as saying. Clinton called on the Georgian government to carry out more reforms to enhance democracy in the country." There is no more important objective than building upon the democratic gains made thus far," the US Secretary of State said.
According to the Georgian Foreign Ministry Press Service, the Georgian Foreign Minister participated in the meeting between the NATO member states' Foreign Ministers with their counterparts participating in ISAF program in Berlin. At the meeting Vashadze talked about the political importance of an transitional stage of the Afghan mission, expressed his support to the recommendation of the military committee of the alliance about moving to the 4th stage of an operation and confirmed Georgia's readiness to defend the euro-Atlantic security together with the allies.