Economic help for Georgian villagers
By Etuna Tsotniashvili
Monday, April 18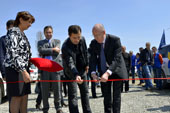 Some Nikozi villagers are now lucky as they have been employed in a newly opened cheese market and a bakery in their village where hundreds of families in the Georgian and Ossetian villages will benefit from it.
On April 8, the Head of UNDP in Georgia Jaime McGoldrick, Head of the Operations Section of the EU Delegation to Georgia Martin Klaucke, and Governor of the Shida Kartli region Zurab Arsoshvili opened the market place where 25 local residents will be employed.
Located close to the Administrative Boundary Line, Zemo Nikozi provides a secure place for the farmers to trade cheese and other agricultural products, and to resolve the bread shortage problem in the nearby villages. This first market place in the region has opened with Euro 25 thousand in European Union funding.
"This project works with a community which has been in a very difficult situation for two plus years since the August, 2008 conflict resulting in a community which needs all the help it can get. We believe that by generating opportunities, and by generating hope some of the local farmers and villagers will be able to sustain themselves through employment. The bakery and cheese making area will provide a place for farmers to sell their products and more and more people will be employed there. We think that this is one of the best ways to build confidence and try to make connections to different communities," Head of UNDP in Georgia Jaime McGoldrick told
The Messenger
adding that their aim is to bring local citizens together to resolve immediate social and economic problems, rebuild trust and confidence across conflict divides, and help shatter myths and prejudice.
"We are especially interested in supporting activities that promote a culture of tolerance, facilitate people-to-people dialogue and help communities to become strong enough to play a more prominent role in non-violent conflict resolution," Head of the Operations Section of the EU Delegation to Georgia Martin Klaucke said.
Governor Arsoshvili welcomed the guests and expressed his gratitude on behalf of Gori Municipality and local residents for the assistance they do for conflict zone villages.
"We carry out very intensive work to create more working places in our region including in the villages surrounding occupied territory. With the support of EU and UNDP we have opened a small cheese market which hopefully will grow soon and a bakery, both of them will serve nearby villages," the Shida Kartli governor told
The Messenger
.
Local resident of Zemo Nikozi Emzar Nodaridze has been working as a baker for several years in Tbilisi. As soon as he heard about building a bakery in his village he offered himself as a baker and he is on staff now.
"This is a very good project which will help local villagers to be employed. I bake bread and I am sure this business will run successfully because many people buy bread in Gori or in village stores and sometimes there is not enough to meet the demand. Our bakery will bake new bread every day and clients will come for sure," baker Nadaridze told the paper.
"I feel good as our request has been successfully granted and now we have an opportunity to sell our cheese in this small market," Mzia Mchedlidze said. According to her it was very difficult to sell this product in Gori because of transportation costs. "I have taken cheese to Gori market to sell and make some money, but I realised that transportation costs were high for me and so it made no sense for me to go there. Now I have a chance to sell my product here in my village and have income for my family as we have nothing to sell except diary products. (because there is no water in the village, no fruits and vegetables are available there to sell in the market).
The same day the delegation also visited a medical clinic in Zemo Nikozi which was rehabilitated some month ago with funds from the Council of Europe Development Bank and implemented by UNDP.
"This hospital is very helpful for us as here we can get a preliminary diagnosis. Instead of leaving for Gori or Tbilisi we come here when it is needed and we trust these doctors. Of course renovation was a very significant step and coming and working in such atmosphere is much better than it was several months ago," Nino Mindiashvili a local villager said. According to Mindiashvili prices are minimum in the health centre and service is affordable for each of the villagers.
The Nikozi market place was initiated by the local non-governmental organization Institute for Regional Development – Shida Kartli in cooperation with the community-based organization Nikozi 2008. The initiative in Zemo Nikozi is part of the EU-funded Confidence Building Early Response Mechanism (COBERM) implemented by the United Nations Development Programme (UNDP). At a cost of Euro 4.4 million, COBERM supports peace building initiatives and people-to-people contacts within and across communities affected by conflicts.
COBERM is seeking ideas from organizations and individuals and gives priority to the immediate and concrete initiatives that can foster peaceful transformation of conflicts or improve social and economic environment within conflict-affected communities.
The 18-month COBERM programme began in May 2010 and end in November 2011.