Jean Todt visited Georgia
By Messenger Staff
Tuesday, April 26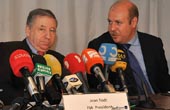 President of the International Automobiles Federation, Jean Todt visited Georgia on April 21-22. On the first day of his visit, Todt arrived in Ajara and was introduced to the carting and rally projects planned to be carried out in Georgia's Black Sea resort. He met the Georgian President in Ajara, as well as the representatives of the Autonomous Republic officials. Later on April 22 Todt attended the opening of Rustavi 3D category motorway and visited the automobile sports complex under construction in Rustavi. According to the Sports and Youth Ministry of Georgia, the autodrome will be built on 75 hectares of land and will be hosting different kinds of auto tournaments.
In case of the approval of the International Automobiles Federation, Rustavi autodrome might host European and World championship stages in Formula 3 racing, according to the Ministry. In order to achieve this, the motorway needs to receive a relevant certificate from the Federation.
Speaking to the journalists, Jean Todt said he was "impressed" with the project presented by the Georgian Automobile Federation. "I am impressed with the works that have been done so far and by the country on the whole. I saw a desire for constructing a successful, beautiful country and this is really pleasant," he said nowadays the International Federation has strict demands in terms of security measures and this was the main issue discussed with the Georgian President,, the Interior Minister and the Minister of Sports and Youth. I can say that I am very optimistic about the development of auto sport in Georgia," he added. Todt promised the Georgian officials to do "his best" to help the Georgian side.
The Minister of Sports and Youth, Lado Vardzelashvili evaluated Todt's visit to Georgia as "very important". "It is necessary to develop an infrastructure; however the most important thing is to popularize auto sport in Georgia, in order to bring up gifted and good racers. It will be beneficial not only for sport, but will also promote the development of tourism and economy."