France a key supporter in Georgian infrastructure development
By Gvantsa Gabekhadze
Tuesday, April 26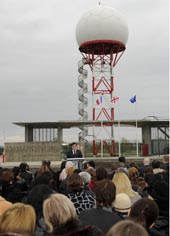 President Saakashvili hailed Georgia's "very good relations" with France and thanked the country for providing assistance to Georgia's "infrastructure modernization" on April 22 after visiting an air traffic control system, installed in the Black Sea port town of Poti by the Thales Group, a defence and civil aviation Electronics Company part-owned by the French state.
"I want to emphasize those very good relations, which we have with France," Saakashvili said at a ceremony in Poti in presence of French Secretary of State for Transport Thierry Mariani. He said that France "in the shortest period of time" replaced radar systems in Tbilisi, damaged in the August war.
"We have huge plans of cooperation for Georgia's infrastructure modernization. France has one of the best infrastructures in the world and some of the best engineering experience. France is probably the largest supporter to Georgia's modernization in this regard," Saakashvili said.
Comment has also been made by Mariani, "We have friendly relations and we welcome your country's political, social and economic advance and support you in this aim. Herewith, the French side is content with Georgia's close cooperation with the EU. We support your sovereignty and territorial integrity."
Apart from statements on French-Georgian relations, Saakashvili talked on the huge potential of Poti and named this town in the context of Georgia's future, "Poti Port would be the main gateway from North China and Middle Asia towards Europe. Poti would be a town of 100% employment. Our aim is that Poti International Airport will be opened by 2012, which will be an airport capable of operating in any weather conditions." As the president has mentioned, apart from the airport, significant infrastructural activities are being planned in Poti from the following year. According to him, together with trade and logistic infrastructure, some new hydro electric Stations would be built, "we also plan the building of new factories and enterprises here. We have already established some contacts regarding this."
Saakashvili also mentioned the tourist potential of Georgian resort regions and stated that for 2012, there might be more than 2 million tourists and visitors in the country, "that is why we should attract many air companies to come into the country and the air tickets to be very much affordable."
Thales has become a major provider of air traffic control systems to Georgia. In December, 2008 the Georgian state-owned air navigation service provider, Sakaeronavigatsia Ltd., and Thales signed a contract for the replacement of both primary and secondary radars at Tbilisi international airport. Thales installed new radars in Tbilisi in summer, 2009 and provided RSM 970 radar in Poti.