Tbilisi slams Lavrov's visit to Georgia's breakaway regions
By Mzia Kupunia
Wednesday, April 27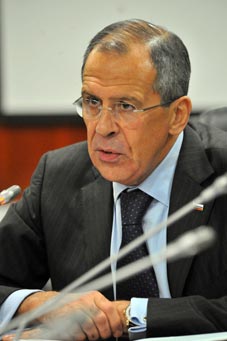 Russian Foreign Minister Sergey Lavrov's visit to Georgia's breakaway of Abkhazia is a "continuation of occupation policy," Georgian Foreign Ministry on Tuesday. Deputy Foreign Minister, Nino Kalandadze, commenting on Lavrov's visits to Abkhazia and Tskhinvali region, said Russia is trying to "legitimize" its "unlawful" decision, referring to the recognition of Georgia's breakaway regions as independent states by Moscow. "Unfortunately, it is a classical step, when an occupant state is trying to make legitimate its unlawful decision. It is an attempt, which will remain unsuccessful," Kalandadze said on Tuesday.
The Georgian Deputy Foreign Minister assessed Lavrov's arrival to Abkhazia and South Ossetia as an indication of a "cynical" attitude towards the principles recognized by the international community. "It is cynical, when the occupant state is trying not to listen to the calls of the international community and on the contrary is trying to take cynical steps to pursue its own policy," she noted. She commented on Lavrov's statement made in Tskhinvali that Russia is ready to defend "Abkhazian and South Ossetian republics" from "any Georgian aggression." "This is a cynical statement, considering the fact that the whole world knows that Georgia does not attack anyone, rather on the contrary, has pledged internationally not to use force [against its breakaway regions]," Kalandadze said "Russia is the country, which despite active requests of the international community, is not refusing to make such statements," she added.
During his one-day visit to Sukhumi, the Russian Foreign Minister met the de facto Abkhazian President, Sergey Baghapsh and the de facto Prime Minister Sergey Shamba. The sides signed "intergovernmental" agreements on mutual cooperation, and officially exchanged notes on "visa free regime" between Abkhazia and Russia. "Today a very important event is taking place. We are exchanging official notes which enable visa free movement. However, there were enough measures taken even before this agreement, in order to ensure comfortable movement of our citizens," the Russian Minister said on Tuesday.
Georgian Parliament Speaker, Davit Bakradze has reiterated the position of the Georgian Foreign Ministry over Lavrov's visit to breakaway regions, saying that the visit only aims at "putting the occupation in legitimate frames." The Parliament Speaker, however, noted that signing "some agreements cannot change the fact of occupation" of Abkhazia and Tskhinvali region. "It is a pity, that Russia is still acting with the style and manner, in which the Soviet government was acting during the Cold War period towards the entities, the artificial governments of which were never recognized by the West," Bakradze said "Unfortunately, Russia does not have enough resources and bravery to adequately respond to the Georgian side's proposal about starting dialogue," he added.
Meanwhile, the Russian Foreign Minister said in Sukhumi that Russia can join the World Trade Organisation (WTO) without Georgia's approval. "I don't want to go in to details on what kind of methods exist for Russia's joining WTO without Georgia's consent. I can say one thing – these possibilities are based on those principles, according to which the WTO is operating," the Russian Minister noted. The second round of talks on Russia's WTO accession is scheduled to be held on April 28 in Bern.
The Georgian Foreign Minister, Grigol Vashadze has said Georgia's aim is not to block Russia's WTO accession. "We are going there [to Bern] in order to find a mutually acceptable way out of the judicial nightmare, which Moscow has created with its inhuman, hasty, emotional and stupid decision to recognize the so called independence of Abkhazia and Tskhinvali region," the Georgian Minister told Ogonek Magazine "We will bring no political, military or any similar themes, which are not related [to WTO talks], to the negotiations table ," he added.