Multi-million dollar project to preserve Georgian harvest
By Salome Modebadze
Wednesday, April 27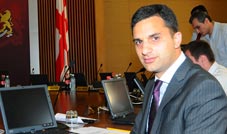 Negotiations with Turkish companies on constructing corn centers in Georgia have been successfully concluded. As Georgian Minister of Agriculture Bakur Kvezereli said on April 26, there will be two grain drying and preserving buildings constructed in the frames of the corn project by the end of the year in our country. It will take GEL 22 million to complete the whole infrastructure: GEL 9 million will be supplied by the state budget while the remaining GEL 13 million will come from the private sector.
Talking of the importance of the project, the Minister explained that these centers would be used for the 35 000 farmers participating in the corn program. "These people who are producing corn will have a wonderful opportunity to stabilize their harvest by decreasing the humidity of the hybrid corn according to the international standards," Kvezereli told the media. This process according to the Minister is an important step before the final delivery of the corn to our neighboring countries and other international markets in the future.
From August 15, farmers will have an opportunity to keep their harvest or reproduce them in both the western and eastern part of the country; those living in the west can use Abasha centre in Samegrelo, while the Lagodekhi center in Kakheti region would serve the east but Kvezereli hoped that such terminals would soon be opened in other regions throughout the country. The new terminals will also be accessible for Azerbaijan and Armenia.
Giorgi Jakhutashvili, Chairman of Agricultural Corporation welcomed the initiative. Emphasizing the importance of the centers, Jakhutashvili said that the special centers would have the necessary services letting the farmers keep their harvest in excellent condition from 6 to 18 months before being released on the relevant market.