Large protests fuel talk of genuine revolution in Georgia
By Gvantsa Gabekhadze
Monday, May 23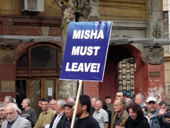 The revolution has already started, Nino Burjanadze, leader of Democratic Movement-United Georgia and active member of the Representative Public Assembly, stated after an incident with protestors and police on Kostava Street and appealed to the rest of the oppositional political spectrum to join them. Alongside Burjanadze's statements, another radical wing of the oppositional spectrum, the Georgian party named May 25 as the date on which the revolution will start.
"Revolution has launched and the authorities have started it, as they use criminal actions against us, we have only peaceful methods, "Burjanadze said. During the incident, several protestors were injured. As the protestors have mentioned, the incident was imposed by provocateurs and police quickly got involved.
Burjanadze appealed to opposition leaders to forget earlier differences and join the rallies. As it turned out, certain oppositional leaders have accepted this appeal. Leaders of the Georgian Party, Levan Gachechiladze, and Koka Guntsadze joined the protest of the Representative Public Assembly at Public Broadcasting. Gachechiladze said that there is no time to bear old grudges and to demonstrate this he shook hands with Nino Burjanadze and kissed her. On its side, the Georgian Party has named May 25 as the day when they will launch street rallies. "25 May will be a menacing day", Sozar Subari, leader of the Georgian party said and called on society to gather on Avlabari square at midday on May 25.Subari says that the government has been dispersing the protest for a second day and active steps are needed to stop the terror. Subari stated that May 25will be day of people's liberation. Subari didn't verify whether their protest will join People's Assembly on May 25.
May 25 has been named as the date of returning to Georgia by one of the party leaders, former Defense Minister, Irakli Okruashvili (who has political asylum in France) to Georgia, "We'll be next to the people. On May 25 I will be in Georgia with my friends to end this government", he said. He has also released a written statement, which is an appeal to the Georgian army praising the Georgian soldiers for their courage, blaming personally President Saakashvili for losing the August 2008 war and telling Georgian soldiers that Saakashvili "hates you so much that he uses you for only holding military parades.""In a few days the Georgian people will face Saakashvili and his government from the other side of a barricade. At that moment I will be standing beside my people," Okruashvili said, adding that he would do it even through it might pose a risk to his life.
Aside from the radical opposition, statements have been made by their so called moderate counterparts.
Our Georgia -Free Democrats released a statement regarding the incident that took place on the protest of People's Assembly and condemned the use of violence from the government and its alleged violation of civil rights. "The fact that citizens of Georgia assembled to stage a demonstration, obviously depicts dissatisfaction of the Georgian society towards the government. We demand cessation of arresting people for political gain, kidnapping protesters and we demand the release of these illegally imprisoned people", the statement reads.
Irakli Alasania's team states that "unfortunately, today's violence once more showed that the government couldn't make conclusions after 2007 November events."
The Free democrats demand the prohibition of police from being in the vicinity of protests dressed as civilians to avoid provocations and accidents.
They also call on the government not to use aggression against the people in the streets to avoid civil confrontation.
As for the authorities attitude, the Interior Minister gave an interview regarding the rallies to Rustavi 2, On May 21, "Everybody saw that all those statements, all those plans these people had, were false and not serious. Therefore, we will have a reaction to these unserious actions, which means that we will have no reaction at all," Merabishvili said in an interview to Rustavi 2 TV's Kurieri PS program aired late on Saturday evening. The interview, Rustavi 2 said, was recorded on at the time when protesters were marching from Freedom Square towards the Georgian Public Broadcaster. "Those people [referring to leaders of the ongoing rallies], who were making the statements, are very isolated from the society. They cannot understand and cannot see that the society is absolutely different today and there are no similar moods in the majority of the society. They are closed in one narrow circle cheating each other. Their statements are absolutely not serious," Merabishvili said. "These people are so few, so weak that they cannot do anything – neither what they are saying they will do nor even a third of what they often threaten to do."Asked if there was any possibility of Georgia being thrown back in the early 1990s, when paramilitary groups were largely in charge of the country, Merabishvili said it was "not serious" and it was not a threat at all.
Either this is an unprecedented bluff, or they have a joker in their hands- analyst Gia Khukhashvili states, "certain oppositional leaders are too self confident, I can't exclude that they might have some joker, on which me and Georgian society have no information," the analyst said and mentioned that Okruashvili's statement on his return to Georgia could not be taken as a mere fact, as when he is exiled from the country, he could not make such a statement without any background. He has also touched upon Georgian billionaire, Bidzina Ivanishvili's statement on the 2008 election falsification and underlined the importance of it, "it was criticism of the authorities. He had not made such a statement without some expecting a reaction. There is an impression that something might happen in the nearest days on which Georgian society has no idea."
According to military analyst, Irakli Sesiashvili, "use of the country's armed forces in a critical situation is not permitted; it is aimed only against foreign aggression or in the event of armed internal confrontation. Thus, Okruashvili's appeal towards the army could be understood as a call to soldiers not no obey the authorities' demands if it decides to use them for inner confrontation," Sesiashvili said and also commented on Okruashvili's possible return to the country, " I think that he will do what he has said. How he does this is his business. His coming back should be related to some concrete plan. "