Bujanadze's conversations bugged
By Gvantsa Gabekhadze
Friday, May 27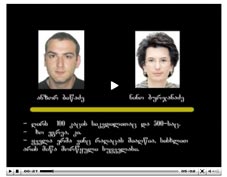 Based on Interior Ministry information, the organizers of the street rallies have been discussing the forcible and bloody way of changing the authorities. Regarding the issue hidden audio materials were released on May 26.
The audio material, which has been presented during the special briefing by the Head of Interior Ministry's Analytic Department , Shota Utiashvili, contained the text of conversation between the head of Democratic Movement-United Georgia and member of Representative Public Assembly, Nino Burjanadze and her son Anzor Bitsadze, where they talked about possible scenario of the events, " Nino, I have thought and suggest such kind of thing , that during a week you can overthrow Georgian Party and … if you take a responsibility it is worth starting a civil war... with death of 100 people or even 500…each country , which has achieved something , achieved it with blood, " Bitsadze said in audio material and asked her mother how many people supported revolution process in Georgia and improing of relations with Russia, " Saakashvili is supported by 40% of people , 35 % is unsatisfied with his ruling and 15% of people are our direct supporters, " Burjanadze responded. One more main issue of the conversation was Russia, and Georgians attitude towards that country. As Burjanadze told her son, Georgian society is divided and polarized regarding the issue, however , they talked on possible usage of Russian special forces, " Police could not defeat us ... they could activate Kojori battalion, however they will not dare shooting , if they dare, I will avoid initial attack and than they will have to oppose Russian GRU, " Burjanadze, said.
Burjanadze has commented on the recordings and as she has stated the phrases in the audio materials were taken out of context, " With official statements of this kind I even held a briefing, where I said that if Saakashvili commits any irresponsible provocations, if Saakashvili allows any other country to organize a provocation, Saakashvili with these steps will ruin the country and allow other countries, even Russia to use this to their own advantage, she said and added that she really preferred death to living in Georgia of this type and that each person who came there that day knew what they were fighting for, " They knew they were fighting for worthy Georgia". Before the statement , her son Anzor Bitsadze was detained for a while but later was released.
The fact has been given different assessments from Georgian analysts. Based on one group , including Gia Nodia, Tornike Sharashenidze and others , the audio materials have one more time revealed Burjanadze's connection with enemy country and her activities have been assessed as betrayal, however, there is another group of analysts , which have differently analyzed the situation, " there might be the case of responsibility towards Burjanadze, Bitsadze and other organizers for continuing rally after 12:00 p.m., however who is more guilty and who is less, the court should decide and not special units, " Analyst, Irakli Sesiashvili, said and mentioned that in any case the Government carries more responsibility on its citizens' fate and that the authorities have committed crime by their actions.
Fellow analyst, Mamuka Areshidze did not forecast Burjanadze's detention concerning the spread materials and preparation of the revolution by the opposition leader also seemed less convincing for him, " I don't expect Burjanadze's arrest , as her imprisonment would rise her political rating , which is not in the government interests. As for the revolutiona, may be there were some talks regarding the issue between Buranadze and her son , however , the process did not give any sign that somebody would overthrow government."