Georgian Defence Minister Visits Poland
Friday, June 3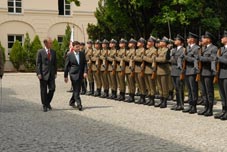 Georgian Minister of Defence Bacho Akhalaia is a paying a two-day official visit to the Republic of Poland. Georgian Defence Minister has already held face to face meeting with his Polish counterpart Bogdan Klich. The delegations of the both countries also held meetings with each other. The main topics during the meetings were the international peacekeeping missions, partnership with NATO and Poland's support for Georgia on NATO integration
Special attention was paid to the elaboration of the common plans in the framework of European Union. According to the statement of Minister Klich, these plans will be one of the main working topics for Poland as the future president country of the European Union. "You know that Georgia enjoys full support of Poland on its NATO integration path. Next year Poland will take up the role of a rotating presidency of the Council of the European Union. Georgia will have full support in this direction as well. During the meeting today we discussed all above- mentioned important issues. The main topics of discussion were NATO-led ISAF operation and strengthening cooperation in military educational field between Georgia and Poland," declared the Polish Defence Minister.
The representatives of the Poland and Georgian Defence Ministries agreed to deepen relations in the military education field. The Georgian Defence Minister offered his Polish counterpart to prepare the representatives of the Polish Armed Forces in Sachkhere Mountain Training School in autumn. This School is awarded the status of Partnership for Peace Program Centre. Bogdan Klich offered his Georgian colleague Bacho Akhalaia to send an expert to the National Defence Academy next year who will give a course on the peacekeeping missions.
The Delegation of Georgian Defence Ministry will hold meetings with the members of National Defence Committee and the head of National Security Bureau of the Republic of Poland. According to the agenda the Georgian Delegation will lay flowers for the Memorial at the graves of the Smolensk crash victims and Georgian officers in 'Pivonski' Pantheon.