Theatrical journeys around Tbilisi
By Salome Modebadze
Friday, June 3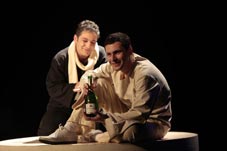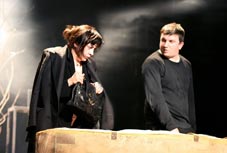 Over the last fortnight I have had the pleasure to enjoy various plays at Georgian theatres which have had a great influence on me. My theatrical journey started with Rustaveli Theatre's experiment which offered students to attend five interesting plays at the experimental stage. Discussions with actors and directors after each performance made us all feel part of Rustaveli Theatre's world. Everything started with
Benjamin
written by young Polish author Radoslaw Paczocha; a psychological drama staged by Polaish and Georgian Directors Tomas Leshinsky and Irakli Gogia.
It appeared to be difficult for the Polish director to match the original characters to Georgian nature and he left the play half finished but Irakli Gogia, his Georgian counterpart, managed to put everything to its place and the play embraced a really professional outlook. Young Benjamin who kills his so much beloved wives and his "best" friend finally commits suicide (or is that just his imagination?) As Irakli Gogia told
The Messenger
the entire story was based on a modern myth about a man who wanted to keep eternal love seeking peace in destruction of his lovers.
Than came
Hamlet.comX
a modern interpretation of William Shakespare's greatest masterpiece though which young director Levan Khvichia sent a message to the "half-ruined civilizations" and "started" a "restoration" campaign. Unfortunately I missed two very interesting plays -
The Bedstead of Ex-Lovers
and
Say Cheese
but I have heard how impressive these two modern stories are and I'll definitely share my impressions with our readers.
I can say many things about the fifth play of the "experimental offer" again and again because
The Visitor
by French writer Eric-Emmanuel Schmitt is worthy of my highest praise. Gosha Gorgoshadze, director of the play, gave us a wonderful opportunity to share our thoughts about the play and speculate as to who the visitor really is – God, old Sigmund Freud's sub-consciousness or a madman. If you want to find the answer to this question you should visit the theatre and all will be made clearer.
My theatrical journey continued at Liberty Theatre where I spent almost three hours watching an amazing psychological drama by the Norwegian playwright Henrik Ibsen. The original story was first premiered at the Royal Theatre in Copenhagen, Denmark in 1879 and caused great controversy among the public as it was highly critical of 19th century marriage norms. English translator Michael Meyer argued that the play's theme was "the need of every individual to find out the kind of person he or she really is and to strive to become that person".
Young Georgian director Vano (Ioane) Khutsishvili managed to deal with all the difficulties of the Norwegian plot and thanked the loyal actors and actresses for their encouragement and desire. "It took us about six months to work on the play – it's a psychological drama which I've made more ritual. I want to first of all thank the participants because a good arts man is the most important part of any good play and I'm amazed how they all have done during all these months," Khutsishvili told me.
It is a story of a wife who loves her husband and borrows money from a disgraced lawyer, Nils Krogstad, to save her husband's life when he was very ill, but she has not told him in order to protect his pride. Georgian actress Tamuna Nikoladze performed Nora Helmer in a very professional way. Repaying the debt from her housekeeping budget, and also from some work she got copying papers by hand Nora's secret is finally unveiled to her husband. Enraged, he declares that he is now completely in Krogstad's power - he must yield to Krogstad's demands and keep quiet about the whole affair. He berates Nora, calling her a dishonest and immoral woman and telling her she is unfit to raise their children. He says that from now on their marriage will be only a matter of appearance.
Showing the sadness of a loving wife sacrificing her peaceful life for the sake of her husband she finally realizes that she was just a doll for Torvald and that their marriage was based on mutual fantasies and misunderstanding. At the end of the play Nora leaves the house slamming the doors behind her crying husband and each character returns to his/her starting point on stage.
I was really amazed with the scene decorations and the atmosphere on stage during the two-act performance. Khutsishvili's Georgian interpretation of Ibsen's well-known play have made a great impact on the Liberty Theatre audience and made us think more about the main values of our lives.
Kote Marjanishvili Theatre also offered a premiere to its visitors. I really enjoyed
The Women
staged by Tsitsino Kobiashvili after an American playwright and screenwriter Neil Simon. Six fashionable friends with their everyday problems and the methods against tension mixed with modern dialogues, feminine intrigues and discussions on men give brief presentation about each female character and unite them against their problems. The lovely and colorful stage designed by Levan Tsuladze made the whole story more enchanting for the audience.
I think that's enough for one Friday morning but I have grand plans for June and I'll share my stories with
The Messenger
subscribers with great pleasure!