Tbilisi warns it might stop participating in Geneva talks
By Mzia Kupunia
Thursday, June 9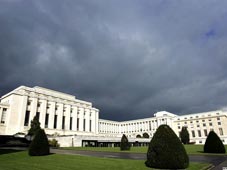 Tbilisi has warned it will stop participating in the Geneva talks if Moscow carries on with "terrorist attack attempts." After the negotiations held in Switzerland on June 7, the Georgian delegation members claimed, "it is impossible to talk with Moscow seriously on other issues, if it will always think about plotting terrorist attacks."
A week ago the Georgian Interior Ministry reported that the police detained a man, allegedly carrying explosives to be detonated at NATO liaison office in Tbilisi. Georgian law enforcers said the foiled terrorist attack was planned by Russian Federal Security Service officers stationed in South Ossetia, Georgia's breakaway region. According to the Interior Ministry, the detained man said he was offered USD 2000 in return to putting explosives at NATO office in the Georgian capital.
Earlier on June 2, the Georgian law enforcers reported about the detention of two residents of Gali region, who allegedly were planning to put explosives in a marketplace in Western Georgia. According to MIA, Russian special agencies' officers deployed in breakaway Abkhazia were involved in plotting the terrorist attack.
Head of the Georgian delegation, National Security Council Secretary, Giga Bokeria said the main issue raised at the negotiations in Geneva was "the terrorist attacks prepared and carried out in Georgia by Russian Special Forces." "We are sitting at the negotiations table with a state which continues plotting terrorist attacks. If such actions continue, the discussions on security issues will lose its sense," Bokeria told journalists. The NSC Secretary said the Russian side did not give any specific answer to Georgia's demand to stop organizing and carrying out terrorist attacks on the Georgian territory.
Head of the Analytical Department at the Georgian Interior Ministry, Shota Utiashvili reiterated NSC Secretary's position, saying that Georgia will not participate in the next round of Geneva talks, scheduled for October, if Russia continues to "stage terrorist acts" in Georgia. "The Georgian side has passed a strong message to the Russian side, as well as to the international partners, that if attempts of terrorist attacks continue, Georgia will stop participating in Geneva process. He said the Russian delegation did not "object strongly" to the Georgian delegation members' claims. "They said that they will pass all of this to Moscow and give a reply afterwards," Utiashvili stated.
Moscow has denied having any links with the alleged terrorist plans in Georgia. Head of the Russian Delegation in Geneva, Deputy Foreign Minister Grigory Karasin told journalists that Moscow's reaction on Tbilisi's accusations was "predictable." "We consider that it is an exercise in information-propaganda work. At the same time we said that if the Georgian side has serious facts, data and figures, we, as a responsible state are ready to examine those facts, study them and give some comments on this matter," Karasin told RIA Novosti news agency.
The Geneva talks' co-chairs said that the situation on the ground was assessed as "stable, but unpredictable with a potential for dangerous escalation due to highly worrying developments and incidents." "The situation is stable enough for daily movements of persons which go by the hundreds," AP quoted EU's Pierre Morel as saying, however, he added that over the last several months there have been shootings and explosions reported on the ground. "Such a rate of casualties after over 2 years of intensive work is a kind of warning signal," Morel noted.