Manjgaladze: detention not linked with journalism activities
By Messenger Staff
Wednesday, July 13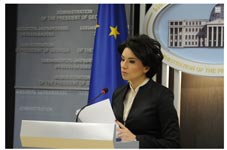 The Georgian President's administration has reiterated its previous statement that the detention of Georgian photojournalists has "nothing to do" with the freedom of media. Speaking at Tuesday's press briefing, the President's press speaker, Manana Manjgaladze said that the arrest of the photographers was a "huge blow and a very regretful fact" for the President. "I would like to stress once more that these arrests have nothing to do with the issue of the freedom of media and the restrictions of journalism activities," Manjgaladze told reporters "I will reiterate that two of the detainees are public servants and their arrest is not linked with their professional activities. Georgia is a country where freedom of speech and freedom of expression is protected by the current legislation," she added.
Georgian counter espionage police officers detained five persons last Thursday: the Georgian President's personal photographer Irakli Gedenidze and his wife Natia Gedenidze, European Pressphoto agency's photographer Zurab Kurtsikidze, Foreign Ministry freelance photographer Giorgi Abdaladze and Associated Press photojournalist Shakh Aivazov. The latter was released after being questioned several hours after the detention. Natia Gedenidze was freed on GEL 10 000 bail on Saturday. The rest of the detainees were sentenced to pre-trial detention on espionage charges. The Georgian Interior Ministry has said the detainees were working for the Russian special agencies.
Despite the statements of the Georgian officials that the case has no links with journalism activities, some Georgian journalists and human rights activists keep holding protest demonstrations and demand declassifying of the case. Coalition for Media Advocacy, a coalition of 11 NGOs, met the US Ambassador to Georgia John Bass on Tuesday to discuss the arrest of the Georgian photojournalists. Head of the Coalition, Zviad Koridze told journalists after the meeting that the US Ambassador has called on the authorities to investigate the case of the detained photojournalists openly and transparently.
"Our position remains unchanged, we demand publicizing the case and providing more information to the representatives of media. We are glad that the position of the US ambassador and our position coincided," Koridze said. One of the participants of the meeting, Shorena Shaverdashvili, editor-in-chief of the Liberali Magazine told reporters that the US ambassador is "personally interested" in following the investigation of the case.
Meanwhile, the US State Department Spokeswoman, Victoria Nuland said the detention was an issue between Russia and Georgia. Speaking at a daily press briefing, she said that if the case was an action incompatible with media freedom, the US State Department would want to see a "transparent and accountable" investigation. Nuland commented on the detention of photojournalists earlier on July 8. "We've seen the reports of this arrest. I think we would say here what we say to the Georgian Government and to governments around the world privately, that we expect a free, fair, accountable, transparent judicial proceeding in this case and in others," she said.