"Georgia Educational Alliance" Summarized Education Reforms
Friday, July 22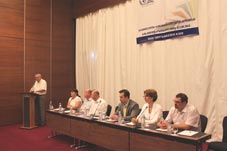 "Georgia Educational Alliance" organized a meeting with the participation of the school community. Participants discussed and assessed general education reforms of the 2010-2011 academic year. Minister of Education and Science of Georgia Dimitri Shashkini attended the event.
Representatives of general educational and higher educational institutions, NGO-s working in education, Diplomatic Corps, as well as students' parents took part in the event.
The meeting was presided over by the chairs of "Georgia Educational Alliance", Tato Shavshishvili and Ghia Murghulia.
The participants discussed almost all components of the general education reform: high school leaving exams, new textbooks, teacher certification exams, highly qualified teachers' salary, changes introduced to the national curriculum, the activities of the School Resource officers and others matters.