Prague on my mind – writing down the future
By Salome Modebadze
Friday, July 22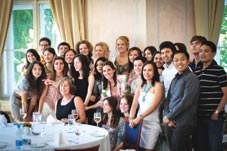 Public trust is the ingredient that separates journalism from other commodities being sold – European Journalism Institute (EJI) Academic Coordinator/Journalism Professor Laura Kelly told the participants of the EJI annual media seminar on our first day of training. The International Program of the Fund for American Studies (TFAS) brought working journalists and journalism students together in Prague, Czech Republic for a one-week seminar to develop the skills needed to objectively report on a variety of issues. The intensive program contained seminars, lectures and discussions about journalism and its role, its power as well as its responsibilities.
This July (9-17) has been among the greatest experiences for me on a personal and professional level. Encouraging participants to consider their challenges as professional journalists, Laura Kelly made us, the students of EJI think of creating a global culture of media. "I believe that recognition which might be subconscious, encourages receptivity to the idea that they have valuable things to learn from one another," said Kelly.
31 participants from 9 countries united around the desire to make media more impartial, objective and independent met with prominent journalists and media experts at Prague's Charles University. Teaching us how to keep connected to the community and make a good story that interests people, journalist and media blogger Charlie Beckett explained that "quality depends on the journalism journalists make and has nothing to do with the media whether traditional or modern".
Jan Urban, Professor at New York University in Prague shared many different stories about his work as a conflict reporter. "In conflicts," Urban said, "you learn the most from ordinary people. Politicians lie as a rule." Warning us that there's no way back as everyone gets bored one day, Urban advised the journalist to forget adrenalin as they may become the 1st target to die. Despite this, conflict reporting for Urban is one of the most honorable fields of journalism, especially because it teaches modesty.
The discussion on photojournalism, led by Samaruddin Stewart showed the duty of photojournalists to capture moments in a way that takes the reader or viewer from his armchair to the event, time or place so he can all at once be part of it and live it. "This is what differentiates photography from photojournalism with its qualities of timeliness and narration," he explained.
A trip around Radio Free Europe/Radio Liberty, Czech TV - sending messages of hope to the world, serving truth and objectivity for years, discussing the challenges of foreign corresponding with Ledka Bauerova Bloomberg News Prague bureau reporter, Rob Cameron – BBC Prague Correspondent and Jeremy Druker – Executive Director of Transitions (TOL) encouraged us to find new internship projects to practice our personal and professional ethics with experienced media outlets. Open minded, motivated journalists would always find their place out of their country but they have to incorporate ideas in language covering a wide region not to miss the most important things around them.
Discovering the power of group discussions, the journalists from various countries created the most ethical network of media inspired with Prague's amazing nature and spirit. Early breakfasts at Masarykova College Dormitory, brainstorming and experience-sharing interactive lectures with Laura Kelly and guest speakers at Charles University, evening strolls through the ancient city and night jazz at local pubs made us feel as if we were the citizens of the Czech Republic.
It was my first flight outside my country and I had to deal with lots of legal procedures: I had no passport, had to obtain a visa, buy tickets… The Civil Registry Agency did everything really fast; the Czech Embassy to Georgia gave me my first visa; a private company sponsored my journey to and from Prague and Czech Airlines ensured a safe flight. From the first minute of my arrival to the Czech capital city I did all the sightseeing in Prague with my new international friends: from Dejvice to Vysehrad through Letna, Hradcany, Mala Strana, Stare Mesto, Vinohradny, Charles Bridge and the amazing Prague Zoo with its 672 species and 4422 animals where I spent the so many hours watching the happy faces of children running all around the park.
EJI has opened me a door to the international society and I want to express my special thanks to Michelle Jeffers Le – EJI Director for her encouragement and support, Brigit Moore - International Admissions Assistant and Martina Mareckova – EJI Program Manager for their wonderful parties and Laura Kelly for encouraging us to "write down our future" together!!! Prague, with its historical points of interest, theatrical and musical performances and magnificent architecture has become a natural gateway bridging the experiences and opportunities that newer generations have in directing the course of their nations.