A new company appears, leasing Tbilisi's landmark TV Tower
By Gvantsa Gabekhadze
Wednesday, August 3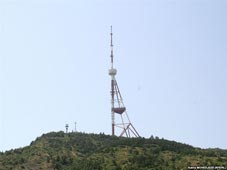 The management rights to the state-owned firm, Alfa-Com, in charge of Tbilisi's famous TV tower have been leased out for a four-year term through an online auction, which closed late on August 1, a statement of the Ministry of Economy reads. There was only one bidder in the auction, a new and unknown company, "Golden-Com".
The Ministry has not revealed the identity of individuals connected to this firm, which obtained the management rights for GEL 110,000, saying that details "would be announced later". The starting price was GEL 100,000 and the unique participant bid GEL 110,000 on July 22. According to the Ministry, the new owner is to invest at least USD 12 million over the next four years and the contract should be signed within a month.
The Georgian political opposition and the greater part of the media think this was a corrupt "deal". The representative of Media for Advocacy and journalist Eliso Chapidze stated that the registration date and the name of the new owner points to a corrupt scheme: the auction was declared by the Ministry only seven days after Golden-Com was registered in the Public Registry and the company itself is not known in the TV market at all. Chapidze also said that journalists should investigate the issue, and that the independent media may well face obstacles in future for using the tower if special government interests control the tower. This might mean the fees for using the equipment would be raised for independent media. It is also possible that the cost of live broadcasting will augment which will handicap independent media." Based on opposition group Georgian Trope, Georgian authorities will control the tower through this ploy to censor the types of broadcasting it can emit.
After such statements were made by journalists, a Ministry of Economy representative, Giorgi Kalandadze, responded on August 2 saying" Absolutely all broadcasters will have an equal opportunity to broadcast and the cost of services will be available and clear."
Political analyst Soso Tsiskarishvili said, "If we call everything its real name, the problem can be called "I want the tower as well!" If such a decision were made in any other democratic state, the whole society would protest it; however the public is passive and has accepted the Georgian Government's unhealthy attitude towards the media."