South Ossetia courts closer ties with Russia
By Messenger Staff
Wednesday, August 3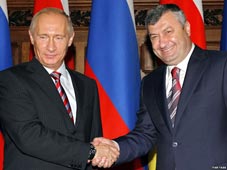 Speaking at a youth forum Seliger 2011, Russian Prime Minister Vladimir Putin said it depended on the will of the people of South Ossetia whether unification of North and South Ossetia was possible. He made the remarks when a participant of the forum from North Ossetia asked Putin whether it was possible to unite the two regions, as peoples of North and South Ossetia were now divided, which was "a common problem".
"Yes, I understand. This is really a problem," Putin responded. "In various periods of history the border between North Ossetia and South Ossetia were different and there was a time when there was no border at all. The border emerged in the framework of a uniform state, the Russian Empire. It was simply easier to rule that way," the Russian PM said.
Preceding Putin's statement South Ossetian leader, Eduard Kokoity told Interfax that he ruled out annexing the region to Russia, adding that Tskhinvali might consider a "union state" type with Russia.
"South Ossetia and its people are focused to a maximum on their integration with Russia," Eduard Kokoity said. "The people of South Ossetia have historically focused on Russia and will never forget the historic decision by Moscow's recognition of South Ossetia in August 2008. In view of the past South Ossetia is aimed at maximum integration with Russia. The people of our country have spoken for the closest relations with Moscow. I believe that South Ossetia could join the Union State of Russia and Belarus after the recognition of our independence by Belarus," Kokoity said.
It is noteworthy that in the same speech the Russian PM answered that the formation of a common state of Russia and Belarus on the model of the USSR was possible as well:"This is A – possible, B – very desirable, C – fully depends on the will of people of Belarus," adding that there are different people in Belarus, who have different approaches to the integration process.
Dmitry Medoev, breakaway South Ossetia's Ambassador to Russia, said in his interview to Echo Moskvy that Tskhinvali was not willing to become part of the Russian Federation or a Union with Belarus since the latter does not recognize Abkhazia or South Ossetia as independent countries.
"You know that the people of South Ossetia held a referendum in 2006, where the only question was their independence. More than 90 percent of voters said "yes" to independence. This decision formed the basis of the historical presidential decree of the Russian Federation to recognize the independence of South Ossetia. Today we can talk about the integration processes, to join South Ossetia in the Union State of Russia and Belarus. This question is very interesting, and it seems promising," Medoev said.