Acting de facto Abkhaz president accused of helping Georgia
By Salome Modebadze
Wednesday, August 17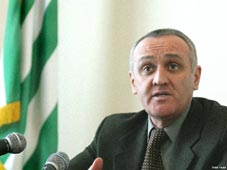 The former Defense Minister of Georgia Tengiz Kitovani has accused the acting President of de facto Abkhazia Alexander Ankvab of cooperating with the Georgian leadership. In an interview given to
Maskovskaya Pravda
last week Kitovani revealed "the secrets" of the War in Abkhazia in 1992-1993. Claiming that Ankvab collaborated with the Georgian intelligence services during the military confrontation, the former Georgian Minister claimed that Ankvab provided the Georgian side with information about the movement of Abkhaz forces.
Kitovani also stressed that the Georgian leadership planned to appoint Ankvab as the leader of Abkhazia as "he knew the characters of Georgians and Abkhazians and could speak in both languages". "Ankvab who had been the Interior Minister of de facto Abkhazia under the governance of the late President Vladislav Ardzinba didn't inform him about the entrance of the Georgian troops in the Abkhazian territory," Kitovani said recollecting Ardzinba's interview about Ankvab. In this interview he claimed "that before the war in Abkhazia Ankvab had disbanded a regiment of internal forces of Abkhazia and forbade the issuance of weapons of his ministry".
"Those, who have interviewed Kitovani and spread such nonsense in Abkhazia, are offending the late Ardzinba's name because this military criminal (referring to Kitovani) claims as if our leader knew about the introduction of troops to Abkhazia" Alexander Ankvab commented on Kitovani's video released in the centre of Sukhumi. As the candidate for Presidency of de facto Abkhazia, Ankvab accused his opponent Prime Minister Sergey Shamba in bribing Kitovani and appealed to his opponent to "refrain from provocations".
"We knew that the campaign team of presidential candidate Sergey Shamba was preparing a provocation," Ankvab said emphasizing that Kitovani's interview published last week and the screening of the video in Sokhumi "are links on the same chain." Talking of Kitovani as a "war criminal, killer of the Abkhaz people" Ankvab expressed his confidence that he had been paid for that interview.
Meanwhile the Georgian politicians, who had been holding senior positions in the government in the 1990's, suggested that Moscow was behind Kitovani's allegations to harm Ankvab's presidential bid. Irakli Batiashvili, who at that time was in charge of the Security Service denied Ankvab's cooperation with the Georgians. "We only had contacts with Ankvab who at the time was a self-styled interior minister of Abkhazia, only in respect of exchange of detainees," he stated. The former Minister of Defense of Georgia Gia Karkarashvili also called Kitovani's allegation "absurd." Talking of Ankvab as a "deserving candidate of the presidency of de facto Abkhazia" Karkarashvili also supposed that the Russian side had tried to discredit him.
Tengiz Kitovani is a retired Georgian politician and military commander who had high-profile involvement in the Georgian Civil War early in the 1990s when he commanded the National Guard of Georgia. Later he was appointed as Defense Minister by Eduard Shevardnadze. Since the early 2000s, Kitovani has lived in Moscow.