Government dismissal of Sturua heavily criticized
By Salome Modebadze
Friday, August 19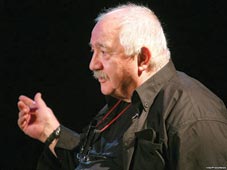 Robert Sturua has spoken about the decision of the Minister of Culture and Monument Protection Nika Rurua to remove him from the position of Artistic Director of Rustaveli Theatre for his "ethnic metaphors". "I'm not a racist but I got in to such a situation that I have to justify myself," Sturua said in an interview with Radio Free Europe/Radio Liberty adding that "the Georgian Government seems to be strictly following the law on pension age thus I was sent to retirement at the age of 73."
Sturua, who had been officially dismissed from his post on Monday, has immediately received invitations from various theatres worldwide. "Aleksander Kaliagin Director of Theatre Et Cetera in Moscow and his producer offered me the position of the Main Stage Director but I haven't fully agreed yet – I just want to clear up the situation," Sturua stated. "I don't love making decisions because I am a fatalist who always follows the river flow," he said recollecting the tragic endings of Directors working at the Rustaveli Theatre: some had been sacked, others even executed "so when you are aware of their tragic fates you just have to continue the tradition," Sturua stated.
The dismissal of Artistic Director of Shota Rustaveli National Drama Theatre remains the subject of controversy for the local and international society. Calling the Georgian Ministry's decision "an abomination" Aleksander Kaliagin stated that "Sturua never used to engage in politics but the situation [in Georgia] seems to have reached the borders and as a loyal person he couldn't help expressing his opinion," the Russian artist and Director said stressing that Theatre Et Cetera would always welcome the great Georgian Director in "his native theatre" in Moscow which is still running plays staged by Sturua.
ITAR-TASS news agency released a statement of the Deputy Head of the Department of Culture of Moscow Andrey Porvatov who confirmed Moscow's readiness to cooperate with the Georgian Director. "We will be happy if the Russian capital will host new productions of Sturua. I remember the most vivid impressions I got from watching his "The Caucasian Chalk Circle," Porvatov said emphasizing the success of Sturua's plays at the major theatres in Moscow.
ITAR-TASS also stressed how Sturua had been criticizing the policies of Georgian President Mikheil Saakashvili and his management style. "In a number of performances as theatrical experts notice, the Director wanted to show that in the activities of the Georgian leader there were signs of authoritarianism, self-will and ambition. In addition, Sturua spoke openly about the shortcomings of the head of state television appearances and in print," said the agency.
Agence France Presse wrote that "Sturua who is known as an outspoken critic of Georgia's pro-Western President Mikheil Saakashvili and his dismissal prompted many to claim that the director was being punished for his anti-government views. But Minister Rurua said he was forced to fire the director after he made "xenophobic" statements in a multicultural country."
The Georgian oppositional spectrum had been unanimous about what they say as a "political vendetta" from the Georgian Government. Accusing the Government of a "slanderous campaign" against Sturua, Dimitri Lortkipanidze Parliament MP for Unity for Justice stressed that "it was Robert Sturua who introduced Georgia to the world not Saakashvili." Gia Tsagareishvili Chairman of the party expressed his confidence that Sturua's removal had been Saakashvili's personal decision. "Sturua has always been a free person and such individuals always endanger the Government," MP stated. Georgian Party accused the Government of an "anti-democratic trend" by "chasing the people with different political opinions" while Georgia's Way stressed that the authorities have been trying to replace free and independent professionals with "obedient dolls."
MP Davit Darchiashvili from the ruling United National Movement (UNM) said that the removed Artistic Director was "ignoring the ethic and social rules with his latest expressions." Stressing that no one would prevent him from staging plays at Rustaveli theatre. Darchiashvili emphasized the responsibility of a person holding an administrative position. "The fact that Sturua used to stage interesting plays in the 1970s doesn't mean that all your announcements made in the 21st century are wise and adequate," MP stated.
As Chairperson of Multiethnic Georgia Arnold Stephanian stated, his organization has sent four letters to President Saakashvili's administration demanding an apology for his xenophobic expressions. "Everyone should be responsible for such statements but what can be done when the President has been elected by people, who can remove him?" Stephanian told the media.
Sturua is continuing to work on the new play Hunting Season after Tamaz Chiladze. "This is a political and non-political play at the same time which is not particularly about today's life but general absurdity. We had closed the season with this premiere but I want to make some changes before the Tbilisi International Festival of Theatre [14 September-8 October]," Sturua said, announcing that the Hunting Season would also open the new season of Rustaveli Theatre on 27th of September. But the troupe of Rustaveli Theatre is protesting the Ministry's decision towards their maestro who has created and molded so many careers for so many years.