Concern over de facto South Ossetian independence celebrations
By Gvantsa Gabekhadze
Wednesday, August 24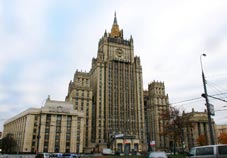 Georgia's occupied regions, which are always the subject of much debate, are again the cause of tension. Constant hints on possible provocations arising from de facto South Ossetia's so called three year's anniversary of independence and the upcoming elections in de facto Abkhazia are very much in agenda. According to the statement of Russia's Foreign Ministry on August 23, the Georgian side is planning serious provocations on August 26, when the South Ossetian anniversary is to be celebrated.
"The scenario of this event envisages an attempt of mass illegal penetration into the territory of South Ossetia under the slogan of returning refugees to their homes," the Russian Foreign Ministry said.
Word of this alleged move from Georgia was first spread on July 30 by the foreign ministry of breakaway South Ossetia; last week authorities in the breakaway region again raised the issue and informed the EU Monitoring Mission in Georgia (EUMM) but the latter said it had checked the report with the Georgian authorities, which had denied it.
Asked if monitors from EUMM on the ground observed any signs of preparation for the alleged event, EUMM spokesman, Steve Bird, told Georgian online media Civil.ge on August 23 that, "We have not seen anything".
In its August 23 statement the Russian Foreign Ministry also said: "This new irresponsible and provocative intention of Tbilisi is extremely dangerous."
"It is fraught with destabilization of already fragile situation in the region," it said and added that the planned event demonstrated "cynicism" of the Georgian authorities as showed mistreatment of refugees for political goals.
"We strongly warn the Georgian side against any attempts to carry out a new adventure in the region. We hope that the appropriate unambiguous signals towards Tbilisi will also come from other members of the international community," the Russian Foreign Ministry said.
For Georgian authorities "Russia's fantasy has no limits." As the head of Interior Ministry's analytic department, Shota Utiashvili said, "there is no difference between the Tskhinvali de facto leadership and the Russian Foreign Ministry, it is impossible to take their statements seriously. They are absolutely groundless."
There is no immediate threat of this alleged military mobilization but conflict analyst Malkhaz Chemia advised Georgia to be careful , "nothing can be excluded, but I do not expect any serious threat due to several reasons: Russian-American relations have been balanced, there are some fields Russia concede its positions, like Libya. There are some fields in which Russia managed to find common language with NATO. Caucasian theme has been frozen. Statements have been made from American side, which meant for Russia not to strain situation in the region, "Chemia stated before switching his attention to another issue, "statements on provocations are frequently made, from both sides (Georgian and Russian), when statements are made, it means that they are made for some reason. It is interesting what those statements are being used for, thus we should be careful. I do not expect something serious, however Russia might carry out some special operation or something like this, "the analyst stated.
He went on to point out that in his opinion the situations in Georgia's two breakaway territories were different, "when Russia undertakes complete control of so called South Ossetia, the situation in de facto Abkhazia is significantly different, where Russia is unable to behave properly." According to the analyst upcoming elections in de facto Abkhazia frighten Russia, "Aleksandre Ankvab is definitely pro Abkhazian and clearly states in his program that he needs Russian money for the area's agricultural development, when Sergey Shamba, who is definitely pro Russian, speaks about the circulation of Russian money in the territory. Russia is frightened that it will not be able to fabricate the results. Due to this, it will try to pressurize local Armenians, Russians and others to vote for Shamba, as Abkhazians and Georgians support and like Ankvab more." The analyst considers that Ankvab's coming to power might have a positive effect on Georgian-Abkhazian relations; however he also thinks that Ankvab will not talk with the current authorities, "the current authorities have managed to spoil almost everything regarding the de facto regions, they have made very serious mistakes, one tough aspect of the events was that they should be careful with Russia, however they still cannot avoid making provocative statements. The last example of this was President Saakashvili's speech in Anaklia, when he called Russians mongoloids." said Chemia.