Georgian teenagers to learn road safety at school
By Ernest Petrosyan
Thursday, August 25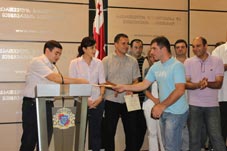 Under the joint initiative of the Interior Ministry and the Ministry of Education, the new subject "Road Signs and Traffic Safety" will be introduced at the 11th grade of Georgian schools starting from the upcoming academic year. The subject will be taught at all Georgian general educational institutions as of this new academic year in the frame of a memorandum signed between the Education and Science Ministry and the Interior Ministry.
The Police Academy devised a special textbook, which consists of two parts that cover every topic that is necessary to be familiar with traffic signs and road safety.
Special preparation trainings for 1200 teachers will be held until the beginning of the academic year. The Deputy Minister Giorgi Chakhnashvili and the Police Acedemy Rector Khatia Dekanoidze handed certificates to the already trained teachers.
"The Internal Ministry announced the initiative to lower the driving age limit, and we also made steps to introduce the new subject", stated the Deputy Minister of Education Giorgi Chakhnashvili.
After passing both practical and theoretical parts of the driving exam, high school students, agreed by a parent, will be issued a temporary license without any charge, which can later be exchanged for a permanent license for free. Young drivers will be entitled to drive; however, they will not be able to transport passengers.
The new subject, supported by the Ministry of Education, is being launched after an amendment of the Georgian MIA, which envisages the lowering of the driving age from 18 to 17 years and issuance of a temporary – one year "B" category driving license to high school students, and in providing that driver has no recorded traffic violations, at the age of 18, instead of temporary license, the youngsters will be entitled to a permanent international driving license.
As several high school students stated to the Messenger, they welcome such an initiative to start driving at a younger age, especially when classes and the issuing of the license will be provided at no cost to students.