Government deny use of xenophobic language
By Gvantsa Gabekhadze
Thursday, August 25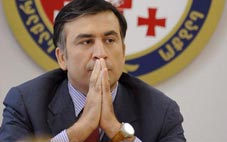 Xenophobia, using such expressions and making statements with such terminology is still a problem in the state. After the dismissal of the Art Director of Rustaveli theatre, Robert Sturua, different non government organizations, opposition and representatives of national minorities have criticized the President of Georgia, Mikheil Saakashvili for using such terminology and send special appeals to the President's administration, to refrain from making xenophobic statements. Such an appeal was sent to the President's administration by Multiethnic Georgia, on August 24.
"We write in the statement that we do not agree with the phraseology of the President as it includes xenophobic terminology. We appeal to the president not to use these terms, "head of the organization Multiethnic Georgia, Arnold Stepanian, said. As he and some others state, everyone who has or will have a negative attitude towards using such phrases from the President can do little more than voice their disapproval , "as he is a President and this is an elective post, we can't do anything more."
"Saakashvili might mean Russians and Abkhazians in using the terms 'Barbarians and Mongoloids'; however an insult of any nation is unacceptable. This is a xenophobic statement. The President, in general, has more responsibility than any citizen and he should not use such terms," Tamar Kordzaia, member of Young Lawyers Association stated and added that the President's statements made in Anaklia, were directly offensive to other nations and was far more aggressive than Sturua's statements , "maybe someone might say that we are in a war situation with Russians and Abkhazians, however, I can't understand why Mongoloids are bad, half of Asia is of this race…" Kordzaia, said.
As the head of the organization Law for People, Zakaria Kutsnashvili, said that making such statements, especially towards Russia, will not provide any benefit for the country , "even if the President only meant Russians as barbarians, it cant's be justified, as not only the President, but every of our citizens should stand far from making such statements."
Such a negative assessment of the President's speech was categorically unacceptable for the Majority representative, Nugzar Tsiklauri, while talking with The Messenger. As he mentioned the President's speech in Anaklia had nothing in common with xenophobia and those who are trying to call it xenophobic should be ashamed of this, "the President's words were directed only towards the occupants, towards those, who have killed a lot of peaceful citizens, which is forcibly trying to illegally control small nations, "Tsiklauri said and added that the President's attitude and his words were absolutely acceptable for him and that he shared his opinion. Herewith, he has underlined that the statement was not targeted towards the Russian nation, it was directed only towards the occupants, who were standing several kilometres from Anaklia, "there are people, who are trying to connect the issue with dismissal of a famous figure in Georgia, whose statements were really xenophobic and unacceptable. Searching such a connection is groundless and absurd." Tsiklauri has also expressed his regret that there is no strong opposition and civil society in Russia, which would create obstacles for the Russian authorities and their illegal actions.
Sturua's statement and the subsequent action of the current authorities have also been differently assessed by the analyst Gia Nodia , "After Saakashvili and his team of young reformers came to power, the older generation of the intelligentsia lost its status as the moral leaders of the nation.
If Saakashvili's modernizing government identifies with Western liberal discourse, in which it is considered shameful to judge people on the basis of their ethnicity, a predilection for conspiracy theories, in which perceptions of the ethnic roots of leaders are a key component, "Nodia states and mentioned that it is extremely odd that it took the minister a month and a half to formulate a solution ," It should not take that long to assess the situation, the nature of Sturua's statements was pretty clear."