Saakashvili opens new ice rink in Batumi
By Salome Modebadze
Thursday, August 25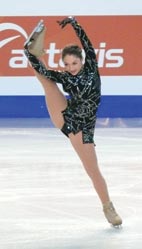 President of Georgia Mikheil Saakashvili opened a new ice skating rink in Batumi on Tuesday. The rink which meets Olympic standards has been another "brick" for Georgia's success story according to the President. It was a few years ago when the President had promised to open a special rink for the young figure skater Elene Gedevanishvili. Having refused to take Russian citizenship Gedevanishvili had been among the Georgians who was deported to her homeland for rejecting the offer from the Russian side.
Stressing that it had been Gedevanishvili's dream to have such a high-standard skating arena in Georgia, Saakashvili decided to call the place after the young skater's name. Expressing her gratitude towards the President Gedevanishvili couldn't hide her excitement with the Olympic stadium. "Georgia means so much to me and I love my country so much that I couldn't ever imagine something more honorable in my life," Gedevanishvili stated.
Praising the young sportswoman for her bravery Saakashvili stressed Gedevanishvili's success as a figure skater. In 2010 the Georgian youngster received a European bronze medal, becoming the first skater from Georgia to earn a medal at an ISU Championships. As of December 2010, she was ranked 13th in the world by the International Skating Union. Recollecting Elene's international success the President praised her for "preserving her dignity."
Gedevanishvili had been training at CSKA Moscow but left Russia in November 2006. At the 2005-2006 Junior Grand Prix event in Estonia, she became the first Georgian skater to win a Junior Grand Prix event and was also awarded with the Order of Honor by Georgian President for her achievements as an athlete and in recognition of her treatment in Russia. (http://en.wikipedia.org/wiki/Elene_Gedevanishvili)
"The construction of this stadium wasn't our stubborn decision as some people think, on the contrary this place would be the best destination for children, especially IDPs who lack welfare," said the President praising the importance of the skating rink for health and fitness. Promising to build more similar stadiums all around the country the President emphasized the double benefit of the initiative. "On the one hand we are implementing a healthy lifestyle for children by opening various facilities and on the other hand it would influence the increasing number of tourists for next summer," he stated. This all according to the President would definitely create new jobs for locals and also reflect on the country's economy.
Lots of visitors watched how the young skaters from Batumi, Tbilisi and Zugdidi performed shows at the new arena with Elene Gedevanishvili who performed a new program prepared specially for this presentation. The President and his son, Nikoloz, also skated in the newly opened rink which according to Saakashvili will help to nurture new successful generations.