Ankvab declared winner in Abkhaz 'elections'
By Gvantsa Gabekhadze
Monday, August 29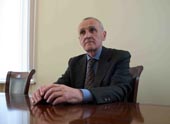 The so called Presidential elections in breakaway Abkhazia were held on August 26. According to the latest information spread by so called central election commission of the region, Aleksandr Ankvab won over his rival by a serious margin. The victory has already been assessed differently across the world; however the positions of Tbilisi and international community coincided on the issue.
Ankvab received 54.86% of the votes while Sergey Shamba, the breakaway region's PM, is a runner up with 21.04% and opposition candidate, Raul Khajimba, got 19.83%, according to the so called CEC of the de facto regime, "only a vote tally from a mountainous village of Pskhu had not yet been delivered, but that would not affect final results as only 104 voters were registered in that village, "Batal Tabagua, chairman of so called CEC mentioned.
The first statement has been made by Ankvab, who immediately got down to business and said that the vice President's post (which was taken by him before the elections) might be abolished. At the same time, he has underlined that Russia remains the main ally of the region and relations with the federation would proceed as before. Russia's President Dmitry Medvedev has immediately congratulated Ankvab on a "convincing victory" in the presidential election –the Kremlin said in a statement released less than a couple of hours after the breakaway region's so called central election commission announced election results , "Medvedev and Ankvab spoke in favour of further strengthening the Russian-Abkhaz partnership," the Kremlin said.
Another cynical act of the pseudo-democratic policy - the so-called "presidential elections" – was how the events were perceived by Tbilisi. According to the statement released by the Foreign Ministry of Georgia Moscow brought to Abkhazia several dozen so-called "international observers" in an attempt to legitimize the outcome of these "elections", and thus the ethnic cleansing of hundreds of thousands of people, "It is unfortunate that many "observers" visited Abkhazia without the prior knowledge of the situation on the ground or knowledge of being in violation of Georgian legislation. There is no justification for such mockery of international law, " the Ministry statement said and voiced an appeal to the international community for their support.
Their calls were quickly answered, "The holding of such an election does not contribute to a peaceful and lasting settlement of the situation in Georgia. The Alliance reiterates its full support for the sovereignty and territorial integrity of Georgia within its internationally recognised borders," the NATO Secretary General, Anders Fogh Rasmussen, said.
Assessments have been delivered by Georgian opposition leaders as well. According to Irakli Alasania, leader of Free Democrats, Georgians should take into consideration the choice of the Abkhazian people, "
Thousands of Georgian people did not participate in these so-called electrons. This is a fact, but Georgians should take into consideration the choice of Abkhazian people and make steps for the reconciliation of Abkhazians and Georgians."
For some Georgian analysts, Ankvab's win might open the closed door to negotiations, " Aleksandre Ankvab expressed his willingness to agree to negotiations with the Georgian side without any preconditions, he said this one month ago. Ankvab is more realistic in this area and he does not wish to make Abkhazia dependent only upon the Russian Federation. Following this we can say that Ankvab's Presidency may bring more chances for dialogue with Georgia. I would note that Russia preferred Shamba, and Ankvab was a less desirable candidate, "- analyst Nika Chitadze ,said.
Ankvab is standing against the threat from Russia, as he will try to make Abkhazia a 70% self productive territory, maximally independent from Russia, which is not in Russian interests – analyst Malkhaz Chemia told The Messenger , " Ankvab is a pro Abkhazian figure who will do his best for to carry out those plans which were underlined in his program, however, his intentions create serious problems for his life, despite the fact the Russian President congratulated him, such a favour from the politicians 'side can be taken just on the contrary in most cases, " the analyst stated and mentioned that if Ankvab will be able to transform Abkhazia into a productive region, which could stand apart from Russian assistance , the negotiation door between Georgia and Abkhazia might be opened , " it will be independent from Russia , however it will not be able to satisfy all its demands based on its own means, as it is just a region, and its need for Georgia would be inevitable in this case, " Chemia stated and underlined that the de facto Abkhazia managed to hold more impartial elections than Georgia had.