European Basketball Championship
By Ernest Petrosyan
Friday, September 2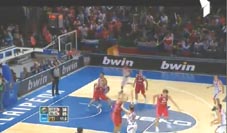 The Georgian National Basketball Team regretfully lost in a match with the Russian national team 65:58 on September 1. The first 2 quarters were won by the Russian team, though, the Georgian team managed to reduce the difference up to 2 points winning the third quarter and playing draw in the forth it lost finally.
The day before, however, the national Georgian basketball team prevailed over Belgium's national team with a 81:59 score, gaining its first victory in the 2011 European Basketball Championship in Klaipeda, Lithuania on August 31. From the first quarter the Georgian National team managed to gain a significant 9-point lead and the final result was showed a difference of 22 points. The top scorers were Zaza Pachulia with 16 points and Victor Sanikidze with 13 points.
"We played well both in attack and defense. It was a very important game for us, and we are all extremely happy with the victory", said the Georgian team player, Nikoloz Tskitishvili. "The victory was the entire team's merit; we played very well-coordinated game. The Belgium team is strong, and after several losses we have finally won. We are grateful to our fans for such support," said Giorgi Tsintsadze.
Georgian President Mikheil Saakashvili, along with his family, attended the basketball match in Klaipeda. The President, accompanied by the Lithuanian Foreign Minister, took a seat among 2000 fans that had come from Georgia. Fans were supporting the national team in Tbilisi too. The Tbilisi City Hall installed four large screens in four different districts of the capital, where the match was broadcast live.
Parallel to the championship, the Days of Georgia cultural festival opened in the town of Klaipeda with the National Ballet. The official opening was also attended by President Saakashvili. Georgian Days will last one week in Lithuania on "Georgian Street" where Georgian dances, music, and cuisine will be presented.