Georgian schoolchildren served by the Post
By Salome Modebadze
Friday, September 2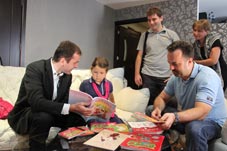 In the framework of a Memorandum of Cooperation signed between the Ministry of Education and Science of Georgia (MES) and the Georgian Post, school books will be delivered by post to families all around the country beginning September 1st. It is the first time in Georgia when the Post became involved in the textbook delivery process. Parents are able to subscribe to textbook home delivery on the web-page of the Georgian Post. The Minister of Education and Science of Georgia, Dimitri Shashkin, and the Head of the Board of Trustees of the Georgian Post, Kakha Baindurashvili, visited the family which was the first to order the service on Thursday.
Maia Bregvadze had ordered books for her child via phone thus saved time, energy and money because the special courier delivered all necessary schoolbooks straight to her home. The family had selected the textbooks from an information leaflet "School Textbooks" online, and the Georgian Post guaranteed their delivery at a cost that is 3% less than in shops or publishing houses.
Dimitri Shashkin welcomed the success of the "far-reaching policy of the MES" in the textbook delivery process and stated that none of the books would cost more than GEL 10 for pupils of 1st to 6th grades. "School textbooks have always been a subject of discussion for families with school children. Now they can easily get the necessary books via phone or online," Baindurashvili stated.
The MES also provided special leaflets entitled "School Textbooks" that contain information about textbook prices, subjects, classes and publishers. They prepared posters with information on book stores and textbook fairs. Around 160 book stores throughout Georgia will sell textbooks that are approved by the Ministry.
The 2011-2012 school year starts on September 15. To ensure that families will have the necessary textbooks on time, they will be delivered by the Georgian Post before that date. According to the information provided by the Press Service of the MES the delivery system is available all over the country.