Wikileaks: US Concerned about Defense Minister
By Ernest Petrosyan
Monday, September 12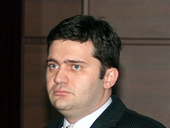 Wikileaks continues to reveal confidential information regarding Georgia. Several cables from US diplomats refer to the Georgian Defense Minister Bacho Akhalaia. In one cable, a US diplomat reports expressing concerns to President Saakashvili about Akhalaia's appointment as Defense Minister two years ago. This concern, however, was accompanied by a note sent out from the US embassy in Tbilisi to Washington saying that it was too early to make a final judgment about the new minister's performance since "the early signs are all positive", reports Wikileaks.
A further cable reveals that the US Deputy Secretary for European and Eurasian Affairs Tina Kaidanow also expressed her concern, while meeting with President Saakashvili in 2009, regarding Akhalaia's appointment, noting his poor human rights record while serving as head of the prison system in 2005-2008. The 2009 cable from the US embassy reads that she urged Saakashvili to understand how this appointment had impacted on Georgia's international reputation and emphasized the importance of avoiding such actions in the future.
Saakashvili however, defended his decision and told the US diplomat, according to Wikileaks, that as head of the prison system Akhalaia succeeded in tackling the mafia. Saakashvili added that David Sikharulidze [former Georgian Ambassador to the US and Akhalaia's forerunner], failed to make "real progress on reform", and suggested Kaidanow keep an open mind regarding Akhalaia's appointment.
In another confidential cable sent to Alexander Vershbow, the US Assistant Secretary of Defense for International Security Affairs, ahead of his visit to Georgia in October 2009, the US embassy in Tbilisi describes Akhalaia as "the most active Defense Minister in terms of seeking advice" from the U.S. defense advisors and military attache and "then following through with it." It also described Akhalaia as "a better interlocutor with DOD [U.S. Department of Defense] personnel in Tbilisi" than Davit Kezerashvili (the wartime Defense Minister), and "more responsive to U.S. guidance" that Davit Sikharulidze, who served as defense minister before Akhalaia's appointment.
The same cable also says that Akhalaia consulted with US defense advisors to structure the MoD's special forces unit along "rational lines", to enact additional personnel reforms and examine the Georgian Armed Forces General Defense Plan. It also reports that even those within the Defense Ministry previously skeptical of Akhalaia admit that unlike his predecessor "he is unafraid to make decisions".
"In our view, the personnel changes he has made within the Joint Staff largely address weak areas and place talented, qualified people into jobs where the previous occupant was performing poorly," the Wikileaks cable reads.
The cable also referred the new Deputy Defense Ministers Nikoloz Vashakidze (currently the First Deputy Foreign Minister) and Nodar Kharshiladze (still Deputy Defense Minister). The latter is described as the US embassy's long-term contact and "likely the most intelligent official" in the Defense Ministry.
The analyst Nika Chitadze expressed his opinion to
The Messenger
regarding the Wikileaks' material. He agreed that US diplomats could have been concerned with Akhalaia's appointment due to his "strict diligence" and reputation while working as head of the prison system. "I think they might have had such concerns, but now I am sure that no such concern exists today", said Chitadze. He also added that the appointment of a minister is the prerogative of a sovereign state, and no other side should interfere with this.