Exhibition and Auction
Monday, September 12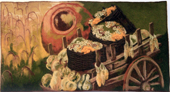 An exhibition "Life Nest" is an inaugural event for OASIS (Organizational for Acquiring Sustainable Independence Skills), a charitable foundation that aims to help reintegrate underprivileged and disaffected youths into the society.
At age 18, as they leave orphanages, foster homes and various other governmental and non-governmental programs, the youngsters find themselves with no shelter and no sustainable skills to lead independent lives. This is where OASIS will step in, sponsoring training of the young people in vocational skills, providing them with temporary shelter and helping build their independent living traits.
The exhibition is made possible by support from Europe House exhibition space that has partnered with OASIS for this event, and an art house "Mokhevuri Teka" that not only donated some of its artwork for the auction, but also provided training in the craft of Georgian felt (Teka) to several youngsters, whose items will be auctioned on Friday the 16th as well.
The exhibition will be hosted by Europe House from September 14 to September 18 and the auction will take place at the same venue on September 16th, 20:00.